H-Street Sims Skateboard 2015 Dave Andrecht 9.5 Limited Edition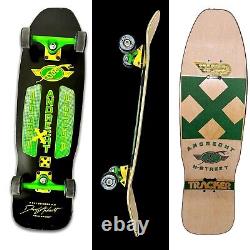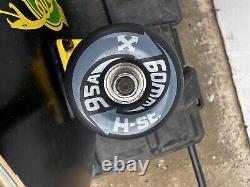 H-Street Dave Andrecht 9.5 Stinger Complete Custom Collectors Special. H-Street cofounder Dave (the Raver) Andrecht, Hall of Fame Skateboarder tribute deck. Full size Shaped deck is a tribute deck from H-Street to the SIMS Team pro skater that is among the 70's and 80's pioneer legends.
Tracker TT sixtrack Dart trucks "Death" edition. Vintage late 80's H-Street wheels NOS. Bones REDS Ceramics Bearings NEW. The underside of deck has a blemish that has been covered with an H-Street "Mark" logo grip strip in yellow. The graphic is otherwise in fantastic condition. Because of this blem the deck has been gripped and built, ready to rip. It is a beautifully presentable complete with painstakingly sourced components that make this truly a one of a kind.