Grateful Dead Dave's Picks Vol. 39 LOW# 20/25000 CD 4/26/83 1983 Spectrum Philly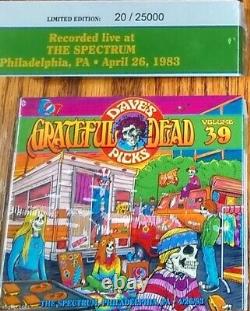 BRAND NEW Sealed Grateful Dead Dave's Pick Volume 39. Low # - 20 /25000. Please see Photos as they are part of the Description.
I DO MY BEST TO ACCURATELY DESCRIBE EACH ITEM LISTED. PLEASE CHECK ALL PICTURES BEFORE YOU USE. SO I KNOW YOU RECEIVED YOUR ITEM SAFELY AND IN THE CONDITION SENT. I always encourage customers to contact me if there is an issue with your order.
PLEASE CONTACT ME IF YOU HAVE A PROBLEM. Bob Weir, Bobby Weir, Jerry Garcia, Phil Lesh, Bill Kreutzmann, Mickey Hart, Ron Pigpen McKernan, Tom Constanten, Keith & Donna Jean Godchaux, Brent Mydland, Bruce Hornsby, Vince Welnick, Jeff Chimenti, Oteil Burbridge, John Mayer, Jay Lane, Joe Russo, John Kadlecik, Sunshine Becker, Jeff Pehrson, Owsley Stanley, Bear, Robert Hunter, John Perry Barlow, Bill Graham, Big Steve Parish, RamRod, Robin Sylvester, Steve Kimock, Rob Wasserman, Don Was, Wolf Bros, The Wolfpack, Scaring the Children, Kingfish, Bobby and the Midnites, BK3, 7 Walkers, Furthur, Further, Dead & Co. Dead and Company, Ratdog, The Other Ones, The Dead, The Rhythm Devils, Billy and the Kids, JGB, Jerry Garcia Band, Melvin Seals, John Kahn, Greatful, Gratful, Gratefull, Greatfull, Gratfull, Dancing Bears, Marching Bears, Terrapin, Bertha, Steal Your Face, Stealie, Dick Latvala, David Lemieux, Dick's Picks, Dave's Picks, Bonus Disc, Bonus Cd, Deadhead, Tickets, Final Tour, Fare Thee Well.