Grateful Dead Dave's Picks 8 Volume Eight Fox Theatre Atlanta GA 11/30/1980 3 CD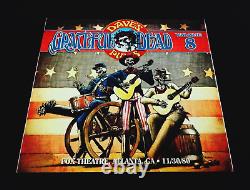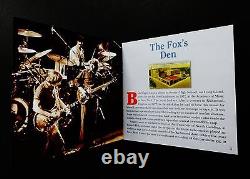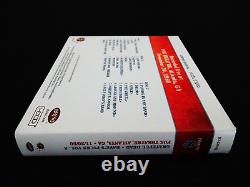 Grateful Dead : Dave's Picks 8 Volume Eight : Fox Theatre - Atlanta Georgia (GA) - November 30, 1980 (11/30/1980) : 3 CD : 2013 (1980/2013) Grateful Dead Productions, Inc. / Rhino (GDP / Rhino) - R2 532998 : Limited Edition Individually-Numbered Set (of # 13000) : Very Rare!! Of'80's Grateful Dead!!
Delivered by the Limited Edition (of # 13,000) " Dave's Picks " Series... Straight from the Fox Theatre! - on the 1980 G. Now we are Talkin', right? Three Cheers for'80's G.
Is the ballpark that this fan just-loves to play in. And this' Pick' - I must admit... It caught me a bit by surprise! Considering that a few of the recent releases in this now 2-Year Young Series! Were along the lines of the must-have / no-brainer category in a good way, naturally... Examples being the'77 Mosque - Richmond,'74 Hartford - CT,'76 William & Mary - VA,'73 UCLA - CA, and'78 Normal - IL. In a very-very good way. I actually tracked this' group' of Shows down from this Fall/Winter run decades ago, because both the logistics & circumstances were very-interesting - and usually in the world of Live Grateful Dead? When there is' Strange', and/or' Interesting'... And with this run - it is totally the case.
Keep in mind, that this was really a 4-Show Tour in November'80 - right through the Southland, and it all happened exclusively in Florida & Georgia - with this 11/30/80 Show being the only performance that was non-Florida! Considering what the Band did down there in that region - specifically in 1977, and even'73,'85,'88 &'89 as well? Point being, this is exactly-why I tracked these down, way-back in the day... You know, just " Searchin' For The Sound "!!! And on this November'80 run - they were indeed!
Finding that Good'Ol Groove - but, in a' Go To Heaven' infused & power-packed way. This string of Shows followed Eight (8)! Shows at the Radio City Music Hall in NYC, where as you well know - the Band delivered both Electric & Acoustic sets, really - for the 1st big time since 1970!
When you play guitar, no matter who you are - generally, when you switch back & forth from Electric & Acoustic... It is the Acoustic that keeps your hands both honest, and strong. Switch back to Electric - and your chomps are tight & have room to fly! You can feel that in this run, without question... That five letter word that every Deadhead loves >>> Tight!!!!! The 11/26/80 Show was in Pembroke Pines, FL, the 11/28/80 Show was in Lakeland, FL, the 11/29/80 was at the University of Florida, in Gainesville, FL - at Alligator Alley! And then the' Tour Closer'? A pretty place, with solid acoustic sound in the room... To put it plainly, this is one of those' types' of beautiful & rustic venues - with some serious History!
- that as a musician... It just makes you want to Deliver! While you & your crew are on stage, doing your thing. And the Grateful Dead on this November'80 night?
Set I sends a clear message, that this is a night that will do more than just count - right out of the gate with a hot, slinky & groovy! Then Loser, Cassidy & Ramble On - with Garcia meaning business! And next - a Little Red Rooster that might even have Mick Jagger himself, tip his Devil's Cap to the Grateful Dead! Then - - - the 1st' Electric' Bird Song since 1973 gets unleashed!!! And soon after, the'80's set staple gets played close to perfection - in Lost Sailor > Saint of Circumstance...
Into, you guessed it - a gritty rough & tumble Deal!!! Well, a few moments in here do indeed border on not just Classic - but near-Legendary moments... Specifically, in the Scarlet > Fire! Right straight of the gate. In fact, the' transition' - with Phil's attack!
Has always been a focal-point among fans in my days, as they collectively get-after this one, hammer-down style! There is cat & mouse everywhere - and at times it even sounds like the mouse might have even gotten the cat!!
However, no counting the chips at this point - as a big-league Samson! To deliver - you bet... A' Sunday Sermon' for Hot-lanta! Then, just shortly around the corner - it's more G. The main ten gets toggled, and the five-finger count?
A nothing short of Massive! Bobby Weir-charged Playing In The Band, which is beyond note-worthy, and is truly a candidate for the' Playin'' of the'80 Year! - right up there with 5/11/80 - 9/2/80 - 6/21/80 - 9/6/80 - 12/13/80, at least to the ears of this humble Dead Fan. The Wheel > Around & Around > Johnny B. Goode to close it up for the night...
And, to finish & make certain that all Fan & Band too Smiles!! And Uncle John's Band Encore!
Which has a slight-tinge of the same exact beauty as the Legendary! 5/17/1977 Uncle John's played at the Fox, just 3 1/2 years prior. This is a 3-CD Set to treasure, not only in the contents - but in the decision-making of the sound, balance, channel-separation, etc. Yes, as here we again have a complete G. Let's keep the fingers collectively-crossed for a some more of this'80's G. See, you give a fan a little - and they want a lot... Hey, it's in our blood... Grateful Dead' Live' at the Fox Theatre in Atlanta, Georgia (GA) on November 30th, 1980 (11/30/1980) : Disc 1. Out of Print (2013 GDP / Rhino release) Grateful Dead Dave's Picks 8 : Fox Theatre, Atlanta, Georgia (GA), November 30, 1980 (11/30/80) is in Like New condition. CD's (Disc 1, Disc 2, Disc 3) are in Like New (Near Mint/Mint) condition (please see photos). Liner Notes (16-Page Booket Insert) are in Like New (Near Mint/Mint) condition.
CD Case (3-CD Quad-Fold) is in Like New (Near Mint/Mint) condition (please see photos). Please see all photos provided. Photos included are of the actual item you will receive.