Grateful Dead Dave's Picks 7 Volume Seven Normal Illinois State 4/24/1978 3 CD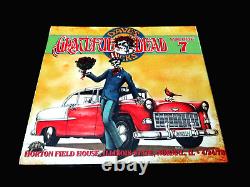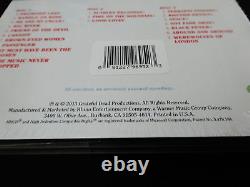 Grateful Dead : Dave's Picks 7 Volume Seven : Illinois State University (Horton Field House) - Normal, Illinois (IL) - April 24, 1978 (4/24/1978) : 3 CD : 2013 (1978/2013) Grateful Dead Productions, Inc. / Rhino (GDP / Rhino) - R2 532997 : Limited Edition Individually-Numbered Set (of # 13,000) : Very-Rare!!
The Spring Tour'78 Normal, Illinois Illinois State University! Arrived - a Late-'70's Dead Fan " Dream Come True "... Late'70's Grateful Dead Fans!!! Arrived - nearly 35-years later, and the Dream! Has indeed come-true, as the Spring Tour'78 Normal, IL - Illinois State University Show has been released!!!
I mean talk about some serious' collective' cassette tape playback on this-one by the Deadhead Faithful throughout the'80's,'90's, before & beyond! I mean how many of those Maxell & TDK Metal & Chrome treasures actually lived-through this time! I can say this for certain...
Mine took some serious' Love'! This is one of those Shows that pretty-much even required' back-up' copies! Time for Dead Tour, and time to pack up the analog cassette tape travel bag!
Well, don't forget Normal'78!!! But how could you - you know? Even if it's a short-run Tour, and you think you can pull it off with only 50, 30, or 15 tapes!
Please tell me you've heard this one? And if not - all the answers are right here... Right smack-dab in the Music! And trust me on this one... Pristine Digital-Remastering - and I'm talkin' Pristine, with a capital " P "!!!
I don't know where to even start here with this one - so here comes my very-best shot on this Fun Topic... >>>> Promised Land just Blasting! Out of the gates - a clear hint from Band to Fans that this-night has the chance to be a Very-Special! The " Grass ain't Greener, the Wine Ain't Sweeter " line in Ramble On with a big-time Holler!! --- even a little " Staying Alive " tuning-start / jingle-jam before Me & My Uncle...
But hey, it's 1978 - you've just gotta love it! Bobby Ace powerhouse rhythm-riffs during the outro-jam in Passenger that acts as a catalyst almost challenging! At which point he just blows-apart! I don't even know how to put it into words? Smash Jam on the outro - a straight-up Burner!!!
--- Garcia's crispy, yet Bold! Tones are beyond-exemplary during the early stages of the Scarlet > into! While Garcia just simply unloads! On the Mutron Envelope Filter!!!! --- just before' Fire' ends...
Of a pretty-much improv addition... " Let It Burn, Let It Burn " - tasty-stuff. During the back-end of Good Lovin' -'78-Style! Garcia treble-line riffs during the gentle, yet still completely Powerful! (& even more so, as a result) during this N. -- I mean I don't know what's prettier here, fellow fans?? Garcia's " Tone " itself, or the sheer " Power " & precision-accuracy too - of his overall playing on this fine very-night...
Do you hear me on this? She's right on the mark...
Her & Garcia teaming-up on that " Sing Me Back Home " the in 8/27/72 Veneta! You bet I was there... Freshly in the Band in'72 -- so here's a shout-out from Ory-gun!!! --- It might be safe to say that this 4/24/78 Show in Normal might very well define " Fun "! In fact, it's hard to even decide Who's having more collective-fun here at this one...
It's hard to say, as I might even vote for the latter? Point being, the " True " recipe for an Amazing!
Grateful Dead Show - is what you have here... Does Phil say " Werewolves of'Weird'ness "? Or " Werewolves of'Weir'dness "?? That one Fans, is for only You!
Can't make up my mind - and this being way!! After my analogs from this Show almost played their little hearts out. You need to find room in that precious CD Rack for this'78 Gem, for all reasons pretty much obvious. I saw a Werewolf drinking a Pina Colada at Trader Vic's, and his hair was Perfect! - Normal, IL - Whoa!!!
Grateful Dead recorded' Live' at Illinois State University (Horton Field House) in Normal, Illinois (IL) on April 24, 1978 (4/24/1978). Me And My Uncle >. It Must Have Been The Roses. Out of Print (2013 GDP / Rhino release) Grateful Dead Dave's Picks Volume 7 Illinois State University (Horton Field House) - Normal, Illinois - 4/24/1978 3-CD Set is in Like New Mint! Condition - very-close to New overall.
The factory sealing shrink wrap has been severed on this 3-CD Set, but the CD Case has never been removed from inside the factory sealing shrink wrap. The CD's have never been played - and the CD Case, CD's & Liner Notes have never been touched (severed shrink only).
This 3-CD Set is new minus the opened/severed shrink wrap mentioned, and it has been Collected-Only! Inside protective plastic in my professional CD rack.
Please see all photos provided. Photos included are of the actual item you will receive. Grateful Dead Spring Tour'78!
A small Limited Edition number (of 13,000) was decided on for each Volume of' Year Two' in this relatively new series. Based on the initial pre-order quantities, I assume? Most likely it was done (again) to encourage fast-sales - and it worked very-well. So it's now out of print for good, and no more will be manufactured for sale. This Dave's Picks Series quantity was later increased to 14,000 Limited Edition #'s sets in 2014 - up to 16,500 by 2017... And up to 18,000 by 2018!