Grateful Dead Dave's Picks 34 Bonus Disc 2020 Vol Thirty Four Miami 6/23/74 4 CD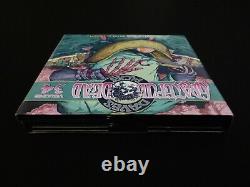 Grateful Dead : Dave's Picks 34 Volume Thirty Four + Dave's Picks 2020 Bonus Disc CD! Jai-Alai Fronton - Miami, Florida (FL) : June 23, 1974 (6/23/74 : 6/23/1974) + June 22, 1974 (6/22/74 : 6/22/1974) : Complete! 4 CD Set - with Dave's Picks 2020 Bonus Disc CD included! 2020 (1974/2020) Grateful Dead Productions, Inc.
/ Rhino (GDP / Rhino) : Limited Edition' Individually-Numbered' CD Set (of # 22000) : The Very-Rare! The Mid-1970's Era Grateful Dead Return-To-Florida! - following the'73 Fall Tour' Curtis Hixon Convention Center' Shows!!
Best-knows as -' Dick's Picks Volume 1'! And, with very fair consideration of both the The Era &' The-Times! And, though still a full-10-years before' Crockett & Tubbs' hit the scene - I'm sure Casey Jones! Was somewhere stage front & center in that " Jai-Alai " Dress Circle... On Grateful Dead Summer Tour'74!!! Bring back some' Fond' Grateful Dead Memories for me! I mean - let's put it this way... A Decade-after - and almost close to 15-years after - I remember making a close to 2-hour Spur of the Moment! And, this drive was' specifically' to get into the Car - drive 2-hours into the City - just to' Hear' This-Show - On-Tape! As the simple-fact then was - both me & a Dead Tour Buddy could wait' no-longer' to hear the Analog Cassette Soundboard Tape! - of the 1974 Grateful Dead playing... - not really " Crazy " after-all - and even arguably " Necessary " - since as most all of us well-knew - it (to-date, back then) was the Only-Time' Ever' the Band played Chuck Berry's Let It Rock! And, as it ultimately later turned-out like, we all just thought it might - unless you caught J. Was going to be the Only-Time-Ever! You were going to hear The Dead Rock! And, that was indeed the case at hand. And, that was (obviously) like a Youthful-Love! Thing to do - for any young Deadhead!
But, what we really ended up finding-out on that Trip! - ended up being far-more important in the long run. - had just delivered &' introduced' This! 6/23/74 Jai-Alai Fronton - Miami-Show!!
Into our Lives & Minds... - Whether Report > China Doll!
- and, last but' not-least' - and really... - and Good Ol' Casey Jones! With, my point here (' easily') being that This! 6/23/74 Jai-Alai Fronton - Miami! " Show is a Grateful Dead 1974 Touring-Year " Top 10!!
- no matter how you cut-it! Garcia's 2nd to Last-Tour with Wolf!! - Weir headed towards some of the' Last-Days' of Gibson!! Pretty much in her' Prime! Carrying the Keys-load with consistent Style & Fashion!
Yet still - the supposed word circulated on the street around this time is that the Band is feeling just a bit-weathered here right-during this time & space? And, rightfully weathered in far more ways than just one.
But, then again - This! On the Summer'74 Wall Of Sound! My own ears hear literally' little to no-wrong' here at all! The likes of Louisville (6/18)! - U of W Fuskie-U.
74 - " The Last One(s) "!! The simple-fact is - this Dark Star Jam!! - is literally " 1974 " Live-Dead Improvisational-Playing!
That can go head-to-head with-ease! - against many, and really' any' of the 1974 Touring-Year Moments-Of-Magic!!! - it's pretty much just like - you know - to each, their own - or - pick your poison!
Is brewing-up this fresh & special batch of Live-Dead-Magic! - stirring it up, and yeah... Even also handing out the cups!! As I have to say here - I always found it very interesting that when you get " deep-into " those sometimes sticky, yet so-awesome Dead-Circles (Touring, Tape Trading & such) - that 1974 can take a bit of a bad-rap (at times) for the 1st-Half of the 1970's Era - much like the similar (& sometimes exact-same-way) that 1978 can take a bit (more) of a bad-rap (& even more-often) for the 2nd-Half of the 1970's Era.
It's just so all really-about' Zeroing-In! " on the nights and/or moments when it is " Truly-On. Because 1974 (and even 1978 - in comparison) are Both!!
Dead-Moments - the ones we all Love! & might even also Live-For! - where it's' The-Music! " - and it's 100% Full-On & " All-Systems! I think there is a real-fair argument here that This!
Miami'74 Show at the Jai-Alai! " - 6/23/74 - is maybe even a realistic' contender' for a " Top 100 " Dead Shows' Award' from the " Entire 1970's Era!!
And, heck - if you are to go & throw in the 6/22/74 Jai-Alai Fronton Magic-Moments! - and make it some sort of a " Match " head-to-head of " Full-Venue-Runs " against other " Full-Venue-Runs "?
- then I think This-One! Is in there' with-ease' - and could maybe even head decently somewhere towards the 75-80 mark! Ahh yes - stuff that I've spent a' ton-of-time' comparing & thinking-about! And, as far as fun-facts go - here indeed is AnOther-One! For you here - on the' Miami' & " Florida " Region thing here - where...
Since the Band had a Nice! In the Good Ol' Sunshine-State! As now that 6/23/74 (& parts-of 6/22/74) have been' Let-Loose! - from a (' Pro-Released') " Miami and/or Florida " perspective... (Tampa) kind of started it all Right! For all of you interested in the essential Florida-Dead! With I guess my question here now being - something like... (12/12 & 12/13) -'80 Alligator Alley!! (11/29) - and, you betcha... Well, hey though - better not' push-my-luck' here sorry not. Here - sorta like Casey Jones! 6/23/1974 - Jai-Alai - Miami!!! - has now in-deed been Set-Free!! And, just have to say too on the topic - kinda? I sure also wouldn't mind hearing a pro-release of 3/24/70!! Live' at Pirate's World!!! - where you just Know! Casey Jones was Rockin' his Backstage Sticky! - given to him by Jerry!
- and actually stuck-on (' firmly') - by Pigpen!! Disc 3 : Around And Around Dark Star Jam > Spanish Jam > U. Blues Uncle John's Band One More Saturday Night Casey Jones Dave's Picks 2020 Bonus Disc CD (Disc 4 / " Bonus Disc CD ") / Jai-Alai Fronton in Miami, Florida (FL) on June 22, 1974 (6/22/1974). Playing In The Band China Cat Sunflower > I Know You Rider Eyes Of The World > Wharf Rat > Sugar Magnolia Item Condition : This Rare! Out Of Print (2020 GDP / Rhino release) Grateful Dead Dave's Picks 34 Volume Thirty Four Jai-Alai Fronton - Miami, Florida (FL) - June 23, 1974 + June 22, 1974 (6/23/1974 + 6/22/1974) Limited Edition / Individually Numbered 3-CD Set (of # 22,000) + Grateful Dead Dave's Picks 2020 Bonus Disc CD Jai-Alai Fronton - Miami, Florida (FL) - June 22, 1974 (6/22/1974) Complete!
4-CD Set is in Like New condition - very-close to Brand New overall. The factory sealing shrink wrap has been severed on this 4-CD Set - but the CD Sets (3-CD Set & Bonus Disc CD) have never been removed from inside the shrink wrap - and neither CD Set inside has been played, or even touched. This 4-CD Bonus Disc Set is brand new minus the opened/severed shrink wrap, and has been " Collected-Only " next to other CD Cases in my professional CD rack. Please see all photos provided. Photos included are of the actual item you will receive.
Grateful Dead Summer Tour'74!!! This 4-CD " Bonus Disc CD " Set - is the Annual Subscription Only! Including not only the Limited Edition Individually Numbered (of # 22,000) 3-CD Set... But it also includes the " Bonus Disc CD " (1-CD)! Please Also Note : This Grateful Dead " Dave's Picks " release series has constantly growing in popularity... From 12,000 Limited Edition 3-CD Sets in 2012 - to 13,000 in 2013 - to 14,000 in 2014 - to 16,500 in 2015, 2016 & 2017 - to 18,000 in 2018 - to 20,000 in 2019 - and... To 22,000 in 2020!! And, this 4-CD " Bonus Disc CD " Set offered here is the Annual Subscription Only!
Version - also including the 4th CD! - the " Bonus Disc CD "!! - making this 4-CD Set even Rarer!
Than the 3-CD Set' Only' version!! As far-less of the " Bonus Disc CD " 4-CD versions were pre-ordered / issued for " Annual " Subscriptions Only! This item is in the category "Music\CDs".
The seller is "springfromnight1989" and is located in this country: US. This item can be shipped to United States, Canada, United Kingdom, Denmark, Romania, Slovakia, Bulgaria, Czech Republic, Finland, Hungary, Latvia, Lithuania, Malta, Estonia, Australia, Greece, Portugal, Cyprus, Slovenia, Japan, Sweden, South Korea, Taiwan, Belgium, France, Ireland, Netherlands, Poland, Spain, Italy, Germany, Austria, Bahamas, Israel, Mexico, New Zealand, Singapore, Switzerland, Norway, Saudi Arabia, United Arab Emirates, Qatar, Kuwait, Bahrain, Republic of Croatia, Malaysia, Chile, Colombia, Costa Rica, Panama, Trinidad and Tobago, Guatemala, Honduras, Jamaica, Antigua and Barbuda, Aruba, Belize, Dominica, Grenada, Saint Kitts-Nevis, Saint Lucia, Montserrat, Turks and Caicos Islands, Barbados, Bermuda, Brunei Darussalam, Bolivia, French Guiana, Guernsey, Gibraltar, Guadeloupe, Iceland, Jersey, Jordan, Cambodia, Cayman Islands, Liechtenstein, Sri Lanka, Luxembourg, Monaco, Macau, Martinique, Maldives, Oman, Pakistan, Paraguay, Reunion.
Custom Bundle: No
Country/Region of Manufacture: United States
Grateful Dead, Dave's Picks, 1974, 4 CD: Grateful Dead Dave's Picks 34, 2020 Bonus Disc, CD
UPC: 0081227909338
Artist: Grateful Dead
Record Label: Rhino
Release Title: Dave's Picks – Volume 34
Case Type: Cardboard Sleeve
Color: Multicolor
MPN: NOT SPECIFIED
Edition: Limited Edition
Type: Album
Format: CD
Language: English
Release Year: 2020
Era: 1970s
Style: Blues Rock, Acid Rock, Country Rock
Features: Numbered, Digipak, Sealed, Live Recording, HDCD
Run Time: Album
Genre: Rock