Grateful Dead Dave's Picks 3 Limited Edition 2/12000! Chicago 10/22/1971 3 CD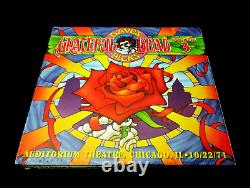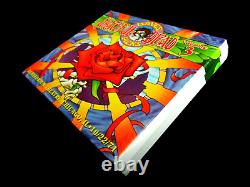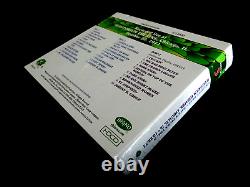 Grateful Dead : Dave's Picks Volume 3 Three : " Limited Edition : 2 / 12000 "!!! Chicago Auditorium - Chicago, Illinois (IL) - October 22 (+ 21), 1971 10/22/1971 (+ 10/21/1971) : 3 CD : Limited Edition Individually Numbered Set... 2012 (1971/2012) Grateful Dead Productions, Inc. / Rhino (GDP / Rhino) - R2 529778 : Brand New / Factory-Sealed!
The Grateful Dead Dave's Picks Volume 3 Limited Edition # 2 Set Issued!!! A " Low' Limited-Edition' Number " Collector's Dream!!! - from the Original' Standard'!
The " Dave's Picks Series " Inaugural-release... October 22 (+ 21), 1971 from the Auditorium Theatre! - in Chicago, Illinois aka : a release from... Offered here is the " Dave's Picks Volume 3 " 3-CD Disc Set! This is a Limited Edition release of only 12,000!
, is long Out of Print - and is now a Very-Rare! Release journey known now as " Dave's Picks " has delivered a Fall 1971 Performance(s) to the " thirsty for more Live Dead " Fans in the form of 1 & 1/2 performances from the 10/22 & 10/21 (partial) Shows at the Auditorium Theatre in Chicago, Illinois in 1971.
I personally found this to be a very-wise " Era " for a release in the Bands early development, mostly due to not only the changing of times in Rock n' Roll - but also due to the personnel changes of the members on stage. With Mickey Hart's temporary resignation in-effect, you have a one-Drummer unit - with just B. Himself carrying the time-keeping load! And as we all well know, there's really nobody out there who can rise to the challenge like Billy!!
- as the guy is clearly one of live music history's most accurate & exciting hitter-of-the-sticks Hey Billy - Thanks for making it to the Fair! - We Love You Man! And in addition to the " big-change " category, you have the addition & rising presence/emergence of Keith Godchaux freshly staffing-up the hot seat, and delivering truly wonderfully performances on the keys - and primarily pure-piano (almost), during this early era. And on the less light note, it is clearly evident our Blues man idol Pigpen is taking a lesser role during this time, and sitting out jams, songs & eventually shows. In other words, if you didn't already know - then I will have to be the one to break the news...
No Pigpen songs performed on this Fall'71 release. So yes, you guessed it - and at times you are treated to a pure Grateful Dead " Quartet " -- sort of similar to the Late-'73 unit, but to be honest, probably not quite at that level. I mean we are talking " Skull (x) & Roses " era here... Indeed still young, rough & ready G. The fact of the matter is, if I had to pick four-words to describe this one they would undoubtedly be : P. If I had to pick just a few more words five-maybe? They would probably be K. These two are definitely chompin' at the bit - and the opportunity too!
To have so much more musical space. Though, in very different ways : Keith delivers a soft & beautiful " piano " virtuoso sound throughout these shows - with hot rallies & jam-emphasis in areas, when needed/allowed. On the other hand basically attacks his 4-String (Alembic) Bass like he is doing some Cosmic-Judo!! I mean no-joke - there are times i.
His attacks are tone-heavy, have tons of muscle, and are basically brilliant from a technical fret board perspective. It is important to note that Phil's aggressive efforts on this release, are well-worth the price of admission - all on their own! For some Dead Fans (even very serious ones - with big collections), this is some Phil Bass Wizardry, that many of you may not have ever heard - just quite like this. Numerous " very-unique " approaches weaving & charging the jam-pockets all throughout the set -- even Vocally too! The " Playin' " is a heater. The Cumberland > Other One steals the show, and quite frankly - the " Other One " itself might have earned the Blue-Ribbon Award all on its own. To my ears, this race is still just neck-and-neck - as my personal " Hotness " award, probably goes out to this absolute Cooker!! Of a Dark Star > Sitting On Top Of The World > Dark Star > Bobby McGee chunk on Disc 3.
In my personal opinion, the Band is definitely pound-for-pound " tighter ", and are just feeling better overall during the 1st Night segment (the 10/21/71 Show). Nonetheless, it should be noted that Garcia Wow! - Is that the 1st time we've mentioned him?? Goes with the alternate/early late-song lyrics during " Comes A Time " which is definitely neat - especially if you have never heard them perform it in this rare fashion.
And last but not least... Here too is another St.
Stephen too add to your collection, and this one they plow right into Johnny B. Goode - to very nicely Rock-Out the House! So the moral of the story here is simple - with any band line-up there ever-was, nobody can do it just quite like our beloved Grateful Dead!!!!! Enjoy this'71 Fall Treasure! Of a release, my fellow Dead Fans...
Of Fall Tour'71 captured nicely here in a bottle. TRACK LISTING >>> Grateful Dead' Live' at the Auditorium Theatre in Chicago, Illinois (IL) on October 22nd (+ 21st), 1971 10/22/1971 (+ 10/21/1971) : DISC 1 : Bertha Me And My Uncle Tennessee Jed Jack Straw Loser Playing In The Band Sugaree Beat It On Down The Line Black Peter Mexicali Blues Cold Rain And Snow Me And Bobby McGee DISC 2 : Comes A Time One More Saturday Night Ramble On Rose Cumberland Blues That's It For The Other One > Deal Sugar Magnolia Casey Jones > Johnny B.
Goode DISC 3 : Truckin' Big Railroad Blues Frozen Logger Dark Star > Sitting On Top Of The World > Dark Star > Me And Bobby McGee Brown-Eyed Women St. Goode Item Condition : This Ultra-Rare!!! " Limited Edition : 2/12000 " Set - Out of Print (2012 GDP / Rhino release) Grateful Dead Dave's Picks Volume 3 Three Auditorium Theatre - Chicago, IL - 10/22/71 (+10/21/71) 3-CD Set is Brand New / Factory-Sealed!
Dave's Picks Series " # 2 " Set - for the Dave's Picks Volume 3 release!! Please Note : There is a small amount of factory' material' present on the CD Case backside (top/edge upper left corner area)' inside' the factory-sealing shrink wrap - which appears to be a tiny/small piece of dried factory glue on the CD Case - located on the white area please see photos/close-up photo provided (photo #11). Please see all photos provided. Photos included are of the actual item you will receive. Dave's Picks Volume 3! Fall Tour'71 in Chicago... A small Limited Edition number of 12,000 was decided on for each Volume (of 4) for this Inaugural 1st! Based on the initial pre-order quantities, I assume?
Most likely it was done to encourage fast sales - and it certainly worked very well. This Volume 1 Inaugural 1st! So it is now Out of Print for good, and no more Sets will be manufactured for sale. As you can well-imagine, these have been very quickly finding their ways into permanent' no-sell' collections.
Due to the immediate popular demand, the " Season 2 " (2013) quantities were promptly raised to 13,000 units - " Season 3 " (2015) quantities were promptly raised to 14,000 units - " Season 4 " (2015) quantities were raised to 16,500... With this Series reaching 18,500! Units by " Season 7 " (2018). With these initial " Season 1 " (2012) releases being the lowest by far - at only 12,000 units (2012 Series : Volume 1 through Volume 4).