Grateful Dead Dave's Picks 29 Vol. Twenty Nine San Bernardino 2/26/77 1977 3 CD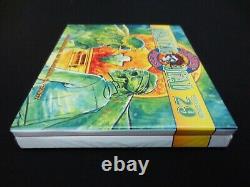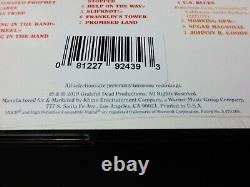 Grateful Dead : Dave's Picks 29 Volume Twenty Nine : Swing Auditorium - San Bernardino, California (CA) : February 26, 1977 (2/26/1977) + University of California - Santa Barbara U. Santa Barbara, California (CA) - February 27, 1977 (2/27/1977) = (3-Track Filler) : 1977 Spring Tour! 3 CD : 2019 (1977/2019) Grateful Dead Productions, Inc. / Rhino (GDP / Rhino) - R2 573507 : Rare!
Limited Edition' Individually-Numbered' CD Set (of # 20,000) : 1977' Prime-Era! In San Bernardino, California -- simply Breathtaking! Dead Show - of 1977!!!!! As 2019 now officially marks the Year, in which... - has been pro-released straight from The Vault!!
An event pretty much worthy of calendar type Annual-Holiday! An event in which we all hoped for (some in dire fashion) for a various period of long-duration...
For the last 40+ years!! As I personally have been hoping for this one to sound' like-this!
Since the Late-'80's Era, when I first found it - or, you know... As this Show is without any shadow of a Deadhead doubt - a sheer Life-Changer! " - and that too is even applied directly in "'77 Dead! So, at least for me - this release is a true' Dream-Come-True!
I got this one in tape trading myself, way-early in the game for me (like most Fans, or at least I'd assume) - and it was upon a direct Taper recommendation too Rightfully! - and it actually came from real-close to the Swing itself, just a fairly good stones through away from San Bernardino, California - somewhere on the Burning-Shore! With just the First 1st! - it was a clear no-brainer to add, lay down on an XL-II-S - pop the tabs, spin the deck... My first memories stay the exact-same when hearing the Pristine!
Sound-quality, as they were originally over 30-Years Ago! - and, here's just what I thought then, and just what I'm still! Thinking now --- I mean...
Can you just even try to Imagine! Those' Faces' on the Crowd! -- when their Beloved-Band opens up This-Show... And yeah - let's not forget about the Estimated Prophet!!!
Just 3-Songs later - in the 1st Set!! Though maybe not quite the same-degree, or same-league as the' Faces' just must have been - at say... The Great American Music Hall! (which really, could truly be' unmatched' in the Mid-Late-'70's' Post-Hiatus' Era) - but, it's just still gotta-be darn close! Just put into serious perspective the degree of unexpected change the Dead Fans were dealing with in the Summer'75 through Spring'77 period & Era - which, in the long & short of it - is All!
'77 Swing Show up against the 8/13/75's of the Deadhead World - as far as Surprise! & a new-look at the Bag of Tricks!
" to come - we've just no choice but to Zone-In directly on " Terrapin Station!!! As I'm going all the way here, and straight for the DeadheadHeart! -- as this tune was, is & will always be one-of (if not' the') - Finest!! Of all of the Garcia/Hunter compositions of All-Time! I mean here is the' Very-1st! - and just look, feel & hear what this-one meant! And then, the Band plays this Tune as a Live 2nd Set' Staple' close to? I'd say like maybe something like - 325 More-Times? (give or take) - from 1977 to 1995! It's the stand-alone Favorite! Dead-Song of so incredibly-many Deadheads that I've personally encountered (from pretty much' Everywhere') over the years & years. And, though it might not-quite have a technical' Slipknot! Type run or rally on its inside, to put it at the top of the Dead Song Deck - as far as the' technical' aspect goes... Its chord changes & song writing are straight-up Pure-Genius! - and, it's truly one of Jerry's go-to strengths that puts this extremely-complex song way over the top... - and where really is there a better time & place to channel a whole entire gamut of emotions - than during... But, no worries here on either front - as there is a Smoker!! Inside this 2/26/77 Swing Show too - naturally, right? - on a'77 Dead-Night like this one!
But, just in case you have any question if' Terrapin! In the next say 10, 12, 15 years Post-'77 Dead...
Well, that's as easy as pie... So, just make it real-simple on yourself -- & go straight-to 7/13/89 RFK!!! Where Garcia delivers & belts-out! In a Rainy & Drenched way-drenched... It was, is & always was & will always be...
Such an incredibly' Cornerstone' piece to the entire Grateful Dead' Live-Magic! Puzzle - and here on 2/26/77 in California! - the Ultra-Lucky Deadheads are treated to the Very-1st!!
And, just as one might even well-expect - it sure is' special' - just like you would hope - when' Terrapin Station! Then scores right-up on the Burning-Shore! Just 3-Songs later, with a Extra-Juicy! Playin' > Wheel > Playin' right around the corner still 1st Set!
- and it sure is ON!! Just another one of those Inexplicably-Awesome! Even needs any help from anyone.
Dead Shows of all-of the 1977 Touring-Year! TRACK LISTING >>> Recorded' Live' at the Swing Auditorium in San Bernardino, California (CA) on February 26, 1977 (2/26/1977) : Disc 1 : Terrapin Station New Minglewood Blues They Love Each Other Estimated Prophet Sugaree Mama Tried Deal Playing In The Band > The Wheel > Playing In The Band.
Disc 2 : Samson And Delilah Tennessee Jed The Music Never Stopped Help On The Way > Slipknot! > Franklin's Tower Promised Land Disc 3 : Eyes Of The World > Dancing In The Street > Around And Around. University of California - Santa Barbara U. Robertson Gym - Santa Barbara, California (CA) - February 27, 1977 (2/27/1977) : Morning Dew > Sugar Magnolia Johnny B.
Out of Print (2019 GDP / Rhino release) Grateful Dead Dave's Picks 29 Volume Twenty Nine Swing Auditorium - San Bernardino, California (CA) - February 26, 1977 (2/26/1977) Limited Edition / Individually-Numbered Set (of # 20,000) 3-CD Set is in Like New Near Mint/Mint! Condition - very-close to New overall. The factory sealing shrink wrap has been severed on this 3-CD Set, but the CD Case has never been removed from inside the factory sealing shrink wrap.
The CD's have never been played - and the CD Case, CD's & Liner Notes have never been touched (severed shrink only). This 3-CD Set is new minus the opened/severed shrink wrap mentioned, and has been Collected-Only! Inside protective plastic in my professional CD rack. Please see all photos provided. Photos included are of the actual item you will receive.
Grateful Dead Spring Tour'77!!! Please Note : This Grateful Dead " Dave's Picks " release series has constantly growing in popularity... From 12,000 Limited Edition 3-CD Sets in 2012 - to 13,000 in 2013 - to 14,000 in 2014 - to 16,500 in 2015, 2016 & 2017 - to 18,000 in 2018 - to 20,000 in 2019 - and...
To 22,000 in 2020!