Grateful Dead Dave's Picks 28 Volume Twenty Eight Capitol Passaic 6/17/1976 3 CD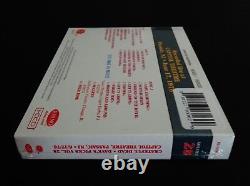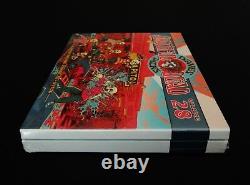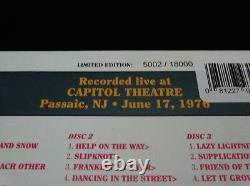 Grateful Dead : Dave's Picks 28 Volume Twenty Eight : Capitol Theatre - Passaic, New Jersey (NJ) : June 17, 1976 (6/17/1976) : 1976 Summer Tour! 3 CD : 2018 (1976/2018) Grateful Dead Productions, Inc. / Rhino (GDP / Rhino) - R2 565022 : Rare! Limited Edition' Individually-Numbered' CD Set (of # 18,000) : Brand New / Factory Sealed! - at the Capitol Theatre! -- Night 1 of the 4th Tour stop!! > Franklin's > Dancin' > Samson!!! - Lazy Lightning > Supplication! & Let It Grow > Drums > Let It Grow!!! I mean talk-about the' Spirit Of'76! - and that-of the New Look! As let's not forget here - that This! Northern Mid-Atlantic Tour leg truly marked The! Return Of The Grateful Dead!!!
Officially' really - since after all... This was Summer'76 Tour! Just bringing the Flat-Out Heat! In the New Jersey / New York Metro-Area!!
Tour-leg stand - which, actually somehow did start-out in Good Ol'... But, I'm sure you know what I'm getting-at here - if you are a Deadhead (from really any-Era through 1995) who saw Shows with any consistency in All! Fan Base neck(s) of the woods.
Just to set the stage here - the Grateful Dead are actually delivering a " Comeback Tour " here, essentially - after a close to 2-Year kinda... It's real-safe to say that These-Shows! Were marked real-big on some East Coast Deadhead Calendars! - that chance that many Fans thought they might not ever have again... Right in the middle of a real rocker like say...
Is why I just Love!! The' Art' on the Cover of this " Dave's Picks 28 " - because it looks like that East Coast Party!! Out-side the Show - and even while it's still light out too! Like 7 Dancin' East Coast! Best described as a High-Energy' Scorcher! - with even the down-tempo tunes getting high energy infused Rock-ings! This is the Band letting out some pent-up Energy! In the Finest-Form -- while still So-Air-Tight!
While way-back-in-the-day - the Boston & Beacon runs might have been the overall most' circulated' Shows Tapes! - likely 6/9/76, 6/11/76 or 6/12/76 & 6/14/76, 6/15/76...
The Collective " Playing " from the Band on this 6/17 Capitol Theatre! Show - is almost arguably... And, basically to put it bluntly... Is the Help > Slip!
The Band kicked it down Twice!! In 2-Shows while in Portland!
Then once during the Boston run - once during the Beacon (New York) run - and then Right-Here! On 6/17 at the Capitol Theatre!! And, to make any good Deadhead lather even-more here (who' has-yet' to hear this one) - here is just exactly!
With a Let It Grow > Drums > Let It Grow!! And, not even to mention as well...
Here's how the 1st Set closed-up prior... " night for-sure here by the Band, with - this even being " Night 1 too - of this 3-Show Capitol Theatre run. Not much a lack-of-warm-up here' at-all' considering that the Beacon Theatre just had its doors blown off of it for 2-Shows just 1-night prior. The Boston Music Hall also' paid-the-price' for 4-Straight! Nights just before the Beacon.
So, in a nut shell - this Summer'76 Tour was pretty much like - ahhhh...- let's just move those Amps to the next Venue while they are still Smokin' with all of this Live-Dead Magic! The Band hadn't played much in the last two years, and that's true - but... Just like you might also well expect, considering This! To be found - really anywhere?? And, let's be honest here - as that's a serious achievement & feat for any Great Live Band - much less this Grate! Are pretty-much just inside a unstoppable Grove! I sure do know quite a few Fans out there who consistently " pride " themselves on their adorning-love for " 1976 " - and...
Are a real-big portion of a majority of those claims. Some of the Fall Tour'76 Stellar! You bet it was pretty much coming-up' Roses' to say the lest - in the form of 1976!!! Period & Era for the Band!! And for the Loyal Dead-Fans!!!
TRACK LISTING >>> Recorded' Live' at the Capitol Theatre in Passaic, New Jersey (NJ) on June 17, 1976 (6/17/1976) : Disc 1 : Cold Rain And Snow Big River They Love Each Other Cassidy Tennessee Jed Looks Like Rain Row Jimmy The Music Never Stopped Scarlet Begonias Promised Land Disc 2 : Help On The Way > Slipknot! Disc 3 : Lazy Lightning > Supplication Friend Of The Devil Let It Grow > Drums > Let It Grow > Wharf Rat > Around And Around. Tower Theatre - Upper Darby, Pennsylvania (PA) - June 23, 1976 (6/23/1976) : Sugaree.
Auditorium Theatre - Chicago, Illinois (IL) - June 28, 1976 (6/28/1976) : High Time. Out of Print (2018 GDP / Rhino release) Grateful Dead Dave's Picks 28 Volume Twenty Eight Capitol Theatre - Passaic, New Jersey (NJ) - June 17, 1976 (6/17/1976) Limited Edition / Individually-Numbered Set (of # 18,000) 3-CD Set is Brand New / Factory Sealed! Please see all photos provided. Photos included are of the actual item you will receive.
Grateful Dead Summer Tour'76! Opening Night from the Capitol Theatre! Please Note : This Grateful Dead " Dave's Picks " release series has constantly growing in popularity... From 12,000 Limited Edition 3-CD Sets in 2012 - to 13,000 in 2013 - to 14,000 in 2014 - to 16,500 in 2015, 2016 & 2017 - and... To 18,000 in 2018!