Grateful Dead Dave's Picks 27 Boise State U. Idaho BSU Broncos 9/2/1983 ID 3 CD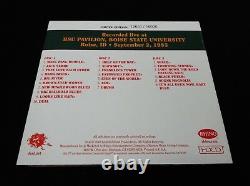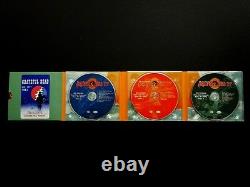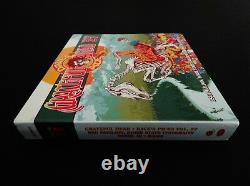 Grateful Dead : Dave's Picks 27 Volume Twenty Seven : BSU Pavilion - Boise State University - Boise, Idaho (ID) : September 2, 1983 (9/2/1983) : 1983 Late Summer / Early Fall Tour! 3 CD : 2018 (1983/2018) Grateful Dead Productions, Inc. / Rhino (GDP / Rhino) : Rare! Limited Edition' Individually-Numbered' CD Set (of # 18,000) : Brand New / Factory Sealed!
1983 Summer / Fall Tour stop at BSU! - the Proud Home of the Broncos! - even in a " Brand New " Outdoor Music Shed too! Because if you are just going to get " 1 " - then yeah... The Good Ol' Mid-'80's!
- they way they are Meant! To be played properly' Live' - and yeah... Deadhead was so-fortunate to even get out of here alive... As this is a Live-Dead Attack!!!
Did we just get a Mid-'80's! Dead Show from the Dave's-Picks Series??
It's in my hand right-now - so... I know that we did! Words do absolutely' nothing' here my fellow Fans - so just Hit-Play! - from 1965 to 1983!
It's even a " One & Done "?? Have to say to the Boise State! You Are A Conquered People!!! Just like they say -' Words' are one-thing, and Proving-It! As that sure didn't take long.
And, let me just say this super-quickly... Just think " 7/8/90 " - as there are some serious' parallels' here, right off the top of my Dead-Head memory... Because " On-Paper " these Shows might " Look " like 5's & 6'es - but, if you put on the headphones &' listen' - or, even better yet...
Well, yes indeed - as these are " On-Paper " Setlist-disguised Shows (which' appear' to be maybe a 5 or a 6) - but, in reality... 8's - 9's - and no-jokes... Maybe even 9.5's!!
So, keep this in mind (for sure). Which, you'll really only even need to contemplate during ahhh... Like the very-beginning of Jack Straw?
Of what soon-becomes a Furious! No-one's off the hook here - because you've also got to deal with Bobby!! " Wang Dang Doodle " and it is On!!! I mean hell, I've already decided that This! Release or, you know - here in today's times...
" re-release " in 2018 thus far - by Any-Band!! And, if you happen to doubt me here at all... Just play the' Wang Dang' & listen to Bob, Phil & Jerry! - play the' Big River' & listen to Jerry!
- play the Minglewood listen to Bob & Jerry! - play the' Big RxR' & listen to Jerry!! - play the Deal & listen to Jerry!!!
You'll likely be begging for just at least a little-bit of mercy, at this point - but, The Boys aren't going to give you Any! As you'll soon see that Phil's claim was no-joke at all... & they are' Making' You Submit!!! And, when it comes to' Tone!
- just forget about it... How should I say this - well, for starters... Yeah, right - Position-3 Switch on the' Dual' DiMarzios + Unity-Gain Buffer forging the path for this Heavenly-Piercing!
This is Jerry at his flat-out Best! On the fret board, and frankly (yet, also' politely') - I don't care what anyone else says. Go & read or listen to a few of his (own)' Interviews' from this " Magical " Dead Era - and yep... He'll tell you all by himself >>>'79! - or, you know what I'm saying... And so now it's' Time' to Talk-About... Because this one can't-even be talked about - it's SO-HOT!!!!!!!
And plus, we already touched on the clear (& clearly-audible) Unity-Gain Buffer advantage here... No boost pre-amp, protecting Tiger's! High-end loss - and frankly, this is like an " Exhibit-A " here - just like Garcia himself did once say Ha! Just look at it this-way - this is like the 10th or 11th (can't remember exactly-which) Help > Slip! > Frank during this Glorious!
83-'84 revival-period - so, you know pretty much what I'm saying here hopefully? In the fresh & ready... And, another thing too - History-Wise! - this is actually the Classic'83 Tour! - Manor Downs - Austin! What else can you say other-than... Phil's a Really-Smart Dude! Tour & see some West Coast!
Country - while also " Rocking-It "!! But, still don't think for a single-second that even Phil himself wasn't struggling at times driving-around & dodging All! Hand-written sings on the Freeways! - just like it said on the Alton Kelley'83 Grey! And, you know darn-well this one is just " That-Good " - if we are even-going' There'...
Can't move-off my MacCourt'78 (DP #23) #1 Pick as my own sentimental " Best " yet. As, at least for me...
It will likely' always' be #1. And, I've got to just call it like it is here Folks - as for me & my ear & my taste and style in my Live-Dead... Want to put this one as #2!!
In the 1st Twenty-Seven (27) Dave's Picks - because right-now, I'm more excited about this "M"assive "M"id-'80's release than any-piece of Music in my entire Live-Dead arsenal! And, to make this even funnier... I already even have the Cassette Masters! But, it's just sounding So! Incredibly-Good to me right now. But, even with that said - it would pretty much be' unfair' to put this above Binghamton'77 (DP #25) & UCLA " The House That Bill Built "'73 (DP #5) - simply because of... Well, you know - all " obvious-reasons ". For me & my ears - and quite-frankly...
Right-now it's actually a " Temporary #1 ". TRACK LISTING >>> Recorded' Live' at the BSU Pavilion at Boise State University in Boise, Idaho (ID) on September 2, 1983 (9/2/1983) : Disc 1 : Wang Dang Doodle > Jack Straw They Love Each Other Mama Tried > Big River Brown Eyed Women New Minglewood Blues Big Railroad Blues Looks Like Rain > Deal Disc 2 : Help On The Way > Slipknot! > Franklin's Tower Estimated Prophet > Eyes Of The World > Jam > Drums Disc 3 : Space > Throwing Stones > Goin' Down The Road Feelin' Bad > Black Peter > Sugar Magnolia. Encore : It's All Over Now Baby Blue.
Out of Print (2018 GDP / Rhino release) Grateful Dead Dave's Picks 27 Volume Twenty Seven BSU Pavilion - Boise State University - Boise, Idaho (ID) - September 2, 1983 (9/2/1983) Limited Edition / Individually-Numbered Set (of # 18,000) 3-CD Set is in Very Good condition - close to Very Good/Like New overall. CD's (Disc 1, Disc 2, Disc 3) are in Very Good condition with light scratches/marks on the playing surfaces (please see photos). Liner Notes (Insert Booklet) are in Like New (Near Mint/Mint) condition (please see photos). CD Case (3-CD Tri-Fold) is in Very Good condition - close to Very Good/Like New with light corner/edge indentations (please see photos).
Please see all photos provided. Photos included are of the actual item you will receive. Grateful Dead Rock & Roll!!
This Grateful Dead " Dave's Picks " release series has constantly growing in popularity... From 12,000 Limited Edition 3-CD Sets in 2012 - to 13,000 in 2013 - to 14,000 in 2014 - to 16,500 in 2015, 2016 & 2017 - and... To 18,000 in 2018!! This item is in the category "Music\CDs".
The seller is "springfromnight1989" and is located in this country: US. This item can be shipped worldwide.
Artist: Grateful Dead
Country/Region of Manufacture: Mexico
Custom Bundle: No
Style: Folk/Country Rock, Progressive/Art Rock, Rock 'n' Roll, Blues Rock, Experimental Rock, Psychedelic Rock, Singer-Songwriter
Format: CD
Type: 3 CD : Three ( 3 ) Discs
Features: Grateful Dead, The Grateful Dead, Dave's Picks, Grateful Dead Dave's Picks, Grateful Dead Dave's Picks 27, Dave's Picks 27, Grateful Dead Dave's Picks Volume 27, Grateful Dead Dave's Picks Vol. 27, BSU Pavilion, Boise State University Boise, Idaho, R2 - 565021 ( 2018 GDP, Inc. ), Springfromnight1989 Listing, Grateful Dead Dave's Picks Volume Twenty Seven, 2018 (1983/2018) Grateful Dead Productions, Inc., Jerry Garcia - Bob Weir - Phil Lesh, Bill Kreutzmann - Mickey Hart - Brent Mydland, Boise State Broncos - BSU - Boise, Idaho ID, HDCD
Release Title: Grateful Dead Dave's Picks 27
Record Label: Grateful Dead Productions, Inc. / Rhino
Release Year: 2018 (1983/2018) Grateful Dead Productions / Rhino
Language: English
Grateful Dead, Dave's Picks 27, 1983, CD: 9/2/83, BSU Pavilion Boise State University, Idaho
Edition: 2018 (1983/2018) Grateful Dead Productions / Rhino, Limited Edition # 12651 / 18000 ( 2018 GDP, Inc. ), Grateful Dead Dave's Picks 27, Grateful Dead Dave's Picks Volume 27, Grateful Dead Dave's Picks Volume Twenty Seven, 2018 (1983/2018) Grateful Dead Productions, Inc., 1st Edition, Live Recording, Collector's Edition, Limited Edition, Numbered Edition
Genre: Rock
UPC: 081227931636