Grateful Dead Dave's Picks 23 McArthur Court Oregon Ducks Eugene 1/22/1978 3 CD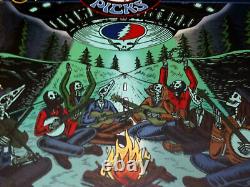 Grateful Dead : Dave's Picks 23 Volume Twenty Three : Mac Court! McArthur Court' - University of Oregon Duck U. Eugene, Oregon (OR) : January 22, 1978 (1/22/1978) : 3 CD : 2017 (1978/2017) Grateful Dead Productions, Inc. / Rhino - R2 557455 : Limited Edition Individually Numbered (of # 16500) : The Dead At Duck U. Featuring one of the Most-Creative!
Grateful Dead' Segue-Transitions' of All-Time! Close Encounters Of The Third Kind!!!
Indoors at the Very-Proud Home! Of the Mighty Oregon Fighting Ducks!! Ahhhhh, well - I guess my life is now... Sure wasn't expecting This! My spine is tingling just even' thinking' about this-one, and I haven't even listened to it recently either - at least over the last few...
As I'll betcha my own' personal-count tally' on This-Show! I haven't been able to' properly-describe' This-Show for like 30-years now - and should I even try?? Dang, I just don't know. A completely-intimidating task, for all those who are already well " in the know " on This!
So, Is This " The Best " Dead Show Ever? Does this Show offer " The Best " Garcia Axe work of All-Time? Hmmm, a bit of a dicey-start? Is this " The Best " Dead Show from 1978? Does this Show offer one of the Hottest!!! Is there any better-place to see The Grateful Dead' Live' on Planet Earth - other than... Is this my own personal-favorite Dead Show of All-Time? But with all-seriousness (well, you know - as much as I'm actually capable of) --- This-Show!!! " It " single-handedly derailed my Entire Life well, you know.
' derailed' meant in a' Grate-Way' - Ha! And, I'm not kidding at all on this either - not-a-bit...
The 90 Minute Analog Cassette Tape Maxell XL-II S! I acquired way-back in the'80's - of this 1/22/78 Mac Court! It Forever-Changed My Life ahhh, yes.
Or, to be a little bit more-specific here. " was actually how I picked - " My College! That, and of course " Animal House "!
A " True-Story ", and I'm most-definitely sure you'll also remember The-Shirt quite well --- " COLLEGE ". I used to go to Duck Hoops Games even when they stunk! - just-so I could' Look' at where Garcia did " It ". I used to even play hoops in there The Pit!
- just so I could go & stand right-where Jerry did It. Hell, I used to even go &' clean-up' Mac Court after Ducks Hoops Games with the Oregon Ducks Lax Team - just so I could sit in all of the different levels & seats looking-on from the various / different glorious! Just so I could admire time & time again where Jerry Did It! I even found a bag of dank in one of the aisles one time under a seat, after a game - I mean... I even went & saw Bob Dylan in there in the'90's (a few-times.
), so I could closely hear exactly what the acoustics were like inside The Pit!!! - when Jerry did It.
And, by " It " - you know, or will know real-soon just exactly what I'm talking about. CLOSE ENCOUNTERS OF THE THIRD KIND!!! And, trust me I know' all-of-them' quite-well very-well Studied... Delivered with better timing & tempos? Are any of these others my own personal " All-Time " Dead Favorite?
Not to down any of them as if I would even think about doing that... But, here it is like 40-years later after Garcia " Bestowed " This-One! And I'm sitting here writing about it intensely & even a tad bit frustrated (40-years later) that I'm not even' nearly' achieving the Rightful-Justice! I could spend a whole lifetime trying and actually, I kinda have?? - and I still could-not do it near-justice.
There has never been a more' Creative' Guitar Player on Earth than Jerry Garcia. And 1/22/78 Mac Court is just yet' another' pinnacle-example of how he once again widens the gap, leaves the rest behind - and, for lack of a more " PC " way to say it? Basically makes the rest of them eat his dust well, you know... I drove 3,000 miles once to just' look' at Mac Court once - to live by it & play in it - and on that drive.
My buddy & I R. Just casually referred to Garcia as " The King Of Rock & Roll ". You know - something like...
Let's listen to some Early-'80's King Of Rock & Roll next... I even went to Mac Court one time just to see the very-last Ducks vs.
UCLA Game inside The Pit! Just so I could once again...
" look-right-it " where Jerry did It. And I was quite pleased to even see Bill Walton in there too! He was probably' really' just doing the exact same thing I was Laser-Focus >>> Mac Court'78! - but, with the one big difference being that he also went to see the' Real-Thing'. Eugene Sunday - back in'78!! I guess I've still got a lot of catching up to do?
There's nothing left to catch-up-to anymore? So, I just simply said to Bill - Hey Bill - I haven't seen you since'93 at Shoreline!
" - as he stands there as " Honorary Game Captain in his Vintage U. And then replies So, Where've You Been? I just couldn't resist it. What's Your Favorite Dead Song? You know, just a couple of Deadheads standing around On! Mac Court like 30-years later, just about a' Half-Court' away. From yep, you guessed it - Right-Where! A " Dave's Picks " that can't & won't be topped - Ever! - at least to me & my humble Dead Fan ears. Oh, and too - I almost forgot to add...
My favorite Ornament on my Christmas Tree is indeed - my Mac Court! Can you actually believe it??
Recorded' Live' at the Very-Proud! Home of the Mighty Oregon Fightning Ducks!! - University of Oregon Duck U. " McArthur Court " - Eugene, Oregon (OR) - January 22, 1978 (1/22/1978). New Minglewood Blues Dire Wolf Cassidy Peggy-O El Paso Tennessee Jed Jack Straw Row Jimmy The Music Never Stopped. Terrapin Station > Drums > The Other One > Space >. Close Encounters Of The Third Kind!!
> Not Fade Away > Around And Around. Grateful Dead Dave's Picks 23 Volume Twenty Three Mac Court! McArthur Court' - University of Oregon!
- Eugene, Oregon (OR) - January 22, 1978 (1/22/1978) Limited Edition / Individually Numbered Set (of 16,500) 3-CD Set is in Like New (Near Mint/Mint) condition - very close to new overall. The factory sealing shrink wrap has been severed on this 3-CD Set, but the CD Case has never been removed from inside the factory sealing shrink wrap. The CD's have never been played - and the CD Case, CD's & Liner Notes have never been touched (severed shrink only). This 3-CD Set has been Collected-Only! Plastic in my professional CD rack. Please see all photos provided. Photos included are of the actual item you will receive.