Grateful Dead Dave's Picks 20 CU University Of Colorado Boulder 12/9/1981 3 CD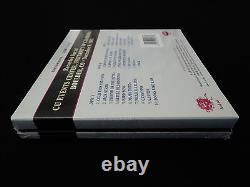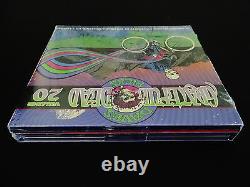 Grateful Dead : Dave's Picks 20 Volume Twenty : CU Events Center - University of Colorado - Boulder, Colorado (CO) : December 9, 1981 (12/9/1981) : 3 CD : 2016 (1981/2016) Grateful Dead Productions, Inc. / Rhino (GDP / Rhino) - R2 552292 : Limited Edition' Individually-Numbered' Set (of # 16500) : Brand New / Factory Sealed!
Of'80's Grateful Dead!! Delivered by the Limited Edition " Dave's Picks " Series... Straight from the University of Colorado - in Boulder, Colorado!! On the Winter Tour'81!!! Now we are talkin', right? Three Cheers for'80's G. The Official " 2nd " Installment of'80's-Dead! From the Dave's Picks Series!! And too, even a little Nastier!
Than the 11/30/80 Atlanta (Dave's Picks 8) release as well - at least to my humble Dead Fan ears. Well-post the " Go To Heaven " Era - and Garcia is just a little bit more in that one & only...
Down & dirty Jerry Guitar! Which, he lived in mostly & so-Thankfully!
Late'70's / Early'80's to Spring 1986 " Fret Board " Focused! Indeed is the Ballpark that this-here Dead Fans just-loves to play in. And this' Pick' - I must admit...
Caught me a bit by surprise! How this one got out on pro-release before the 1980 (' Un-Official' 15th Anniversary) CU Boulder Shows is beyond me... But wow - as I'm So-Incredibly Grateful! I mean here you go Dead Fans!!
And most-likely too - Fans of CU!!! As the Good Ol' "'80's " Grateful Dead Absolutely Rock & Rolled!!! The CU Events Center - on the Proud Home-Turf! December 3, 1981 (12/3/1981) Show Pro-released as a part of the Dave's Picks Series Dave's Picks Volume 20! At the University of Colorado Events Center - in Boulder, Colorado (CO)!!!
This Tour Stop in Boulder was the Final-Night of a short 6-Show Winter Tour run in the Mid-West / West! Grateful Dead' Winter' Tour in'81 - with likely the greatest-importance being... So Boys, Just How-Was that Europe Tour!! So do you catch my drift on this one? There were only really Six (6)' immediate' changes to hear how things were sounding for the Band, after a fairly-sizable - and significantly-underrated!
- a sort of Home at (instead of' Winterland') - University of Illinois > Madison, Wisconsin > Market Square in Indiana > the Rosemont Horizon in Illinois > Des Moines, IA > University of Colorado - at Boulder! " Well, you know - not quite' Home' -- but still definitely " back-home in the U.
I believe the 1st taste I ever did score on tape of this'81 mini-Tour was from the 12/5/81 Market Square Show, and... I kind of did a bit of a double-take, because I really was short on'81 G. Real-fast - with the Dane County (12/3/81) show being the next, and then this Smoker! Of a 12/9/81 Boulder Show, and then the U of Illinois Show too - right after. In the'80's, Soundboards from this run were indeed few & far between - as most Folks I knew at the time were circulating Audiences - and, very-nice ones at that. Everybody seemed to want these Shows dialed - as the Band was So-Hot! Too often, on tempo & timing... Challenging themselves & the Audience too! I mean " how hard can you Dance "!!
Some of the Prime / Primary days of the " Lay It All Out "'80's G. Attitude, with copious-chances being taken... Which often equal = G.
Another source of the popularity of this run, is that it indeed included a few College Town Shows - and, if the Show wasn't actually " at " the College, there was one not too far away, around the corner! With, this 12/9/1981 Show right in Boulder! Being no-exception - and really being the norm as of late, in fact in 1980 / 1981. As the Band also choose to deliver a Red-Hot!!
2-Show run on Summer Tour'80 at CU Folsom Field... As the Official / (Un-official) / Official!!! " 15th Anniversary Shows " of The Grateful Dead!!!!! Why not in Boulder, right?
And in the Early-1980's? And here in'81 these were really still the days where a 12-Song 1st Set was a possibility, while at this Show - the Band delivered one, and delivered it very-nicely!! Cold Rain > Jack Straw to Open! A hot Rooster, and a way-exploratory Bird Song! One of' those' Bird Songs that almost needs to be played in an' Indoor' Venue...
The Cassidy was Weir / Garcia Lightning! And, saving the best of last naturally in Set I..... Opened Set II - and, a lengthy & juicy one at-that! And, Bobby brought some serious-action in the Good Lovin' - 1981... The emergence of Bob Weir!!
For the Encore, and that was all she wrote for this little Huge!'81 Winter Tour - with only a small handful of California dates to follow. And check this out too Fans --- as this 12/9/81 Show was actually the Very-Last & Final! Grateful Dead Show' Ever' in Boulder, Colorado!!! Dang though, did CU Boulder ever get a toe-to-toe'81 G.
Audio &' Artistic' Piece of G. & CU Boulder Colorado History!!! Grateful Dead' Live' at University of Colorado - Boulder (CU Events Center) - Boulder, Colorado (CO) - December 9, 1981 (12/9/1981). Blues > (I Can't Get No) Satisfaction. Out of Print (2016 GDP / Rhino release) Grateful Dead Dave's Picks 20 (University of Colorado - Boulder - CU Events Center - 12/9/1981) Limited Edition (of # 16,500) 3-CD set is Brand New / Factory-Sealed! - Limited Edition # 11168 / # 16500.
Please see all photos provided. Photos included are of the actual item you will receive. Grateful Dead 1981 Winter Tour! - at University of Colorado - Boulder!!
This 3-CD Set is a Limited Edition Series (of # 16,500) 2016 Edition! A Grateful Dead " Dave's Picks " release series constantly growing in popularity...
From 12,000 in 2012 - to 13,000 in 2013 - to 14,000 in 2014 - to 16,500 in 2015, 2016 & 2017 - and... To 18,000 in 2018!