Grateful Dead Dave's Picks 19 Volume Nineteen Honolulu Hawaii 1/23/70 1970 3 CD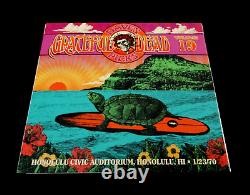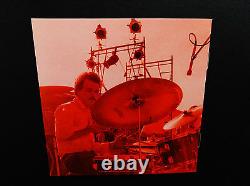 / Rhino (GDP / Rhino) - R2 552290 : 1970' Live-Dead'! " straight-into the " Workingman's Dead!! And die-hard Dead Fans too of the " Live/Dead " meets!
" Workingman's Dead " Late-1969 / Early-1970 Era!!! And very-well know that it can't get any better than 1/23 & 1/24, 1970... When the Good Ol' Grateful Dead are playing there Live! The very " tail-end " of the 7-Man Band!
Featuring Jerry - Pigpen - Bobby - Billy - Phil - Mickey... Garcia Rockin' a Fender Strat!!! And my goodness my fellow Fans, as one-look at the Songs included on this 3-CD Set - from both!
1/23/1970 & 1/24/1970 just about completely tell the tape of the tape, on this Magical! I mean talk about serious-props to the Band during this-time, or - as I should rightfully & more properly say... To the Good Ol' (' Newest') Grateful Dead direction, style & musical-fashion!!! " Meld " of " Live/Dead-meets-Workingman's Dead "!!! The Country, Rock & Cowboy-like infused tunes & tones of the really Brand-New " Workingman's Dead " G. Such a change of events indeed at this time, and captured here Wonderfully! I mean let's put it this way... If " Live/Dead " was one tasty chocolate wafer, and " Workingman's Dead " was the-other tasty chocolate wafer - then this brief period / era here is-indeed something like the Double-Stuff!
And, I've been thinking this would be a G. " Pick " dating back to the Marvelous!
" Dick's Picks " Era, as I'm quite certain it was in the back, or even forefront of Dick Latvala's mind. You know, I mean Dick had no-choice but to initially deal out so-many " Vital " Dead Shows... I mean - can I hear you say Dick's Picks Volume # 16! I mean even Dick himself referred to 5/2/1970 Binghampton as The!
And that-Fans, is a Fact! Than even ever before, for sure. You are treated to a way-kind China > Rider! Right off of the bat, with this set - from 1/23 - with a Down, Dirty & Mean!
- a Rockin' Casey Jones! - and then as for Disc 2... >>> Dark Star > St. See what I mean about " Needing " This-Set? Disc 3 features a segment of Way-Choice!
Songs from the 1/24 Show, featuring Cumberland Blues! - Good Lovin' for the 2nd!
- Dancin' In The Street - and... And, for me personally - and my tastes & style overall... In a " Top 3 " favorites-pick and yes, it's very-tough to choose...
But, I'm going with the 1/23 Dark Star! These three version just really " resonated " with my own Dead-Head!
He most, and it truly was. To hear this Set, in this digitally-mastered release format... As quite frankly, this release does indeed' bury' my old-trusty (& dusty) analogs.
Not this time - and not even close! Jeff Norman, as we'll take-it! I mean will somebody just serve me an ice-cold Mai Tai!!! Where to get the good-ones down there The-Best! Here now well into this' New Millennium'... But, then again this Show was indeed close to 55-Years Ago! What a couple of Dead Shows!!! - I mean just check-out the Surfing Terrapin! On the Cover of this-one, as he appears to have absolutely no-complaints at all what so ever. Stored very-carefully in my professional CD rack. CD's (Disc 1, Disc 2, Disc 3), Liner Notes Booklet Insert, and 3-CD (Quad-Fold) Case are all in Like New Near Mint/Mint! Please see all photos provided.
Photos included are of the actual item you will receive. " to the Good Ol' " Early-1970 Grateful Dead!! On January 23 & 24, 1970!!!