Grateful Dead Dave's Picks 18 Volume Eighteen 2016 Bonus Disc 1976 Orpheum 4 CD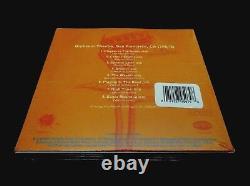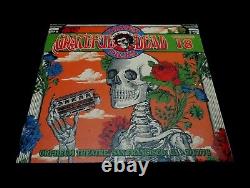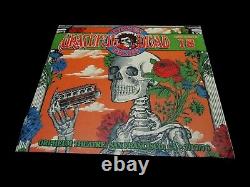 Grateful Dead : Dave's Picks 18 Volume Eighteen + Dave's Picks 2016 Bonus Disc CD! Orpheum Theatre - San Francisco, California (CA) : July 16 & 17, 1976 (7/16/1976 - 7/17/1976) : 4 CD Set - with Dave's Picks 2016 Bonus Disc CD included!! 2016 (1976/2016) Grateful Dead Productions, Inc. / Rhino (GDP / Rhino) : 4-CD' Bonus Disc' Set!!
At San Francisco's Orpheum Theatre!!! - on the 1976 Summer Tour!!!!
I mean just simply do your Historical Calendar and even Dead Base math! On this one, and you will quickly-know just exactly where Your!
Right on top of the Home Turf! Of the Good Ol' New! Grateful Dead - on July 16 & 17, 1976 - at San Francisco's Beautiful!
On the'76 Summer Tour - just shortly-after their Mid-'70's group " Hiatus ". And so-ready to Rock & Roll!!! To the Gateway of yet Another! Grateful Dead " Prime " Era period --- 1976 > 1977! To deliver Live Rock & Roll - in a brand new, and arguably even " new & improved " Live G.
Some Fans even prefer'76 to'77, as most of the main points tend to deal with a little more' freshness' - set lists a little bit less settled into - and, for lack of a better way to' say' it... Just a tad more up-tempo' pop' &' punch' attack of the beats throughout 2nd Sets, and' especially' through 1st Sets. And though'77 might definitely have'76 one-upped on the " Silky-Smooth ", it also might have it a bit more on the Disco-Dead side... But, down to sheer personal opinion - it's just splitting hairs, and getting down to the real nitty gritty. Personally, I wouldn't all together " trade "'76 for'77, but... There are indeed a number of'76 Shows that do crack the'77 " Top-25 " List with ease. And, fortunately for us today - now over 40-Years!
Let out of the Vault!! -- and, I'm most certainly glad to stand behind the fact that this-run is indeed one of the few & the proud'77 " Top 25 " crackers. Both the Boston & S.
Orpheum Shows got so-much " tape trader " circulation time, back in the'80's &'90's Era... Simply because not only are these Shows so stand-out - but, also because better & better Soundboard copies continues to trickle down.
All the way until the Mid/Late-'90's era - where I personally finally found the copies that I considered The-Bomb! So, needless to say - I was all eyebrows-up when I saw that this one was going to come down the pro-release circuit pipeline in this 4-CD (3-CD + Bonus Disc CD) format...
With the first question I asked myself being -- Wow... Are they going to make these Shows Tapes! What makes me the Happiest of all here - is that this question was so-solidly answered, and then some. 7/16/76 & 7/17/76 freshly in your Music Collection arsenal - you can now even consider giving' staple' like releases a momentary peaceful rest such as...
Cow Palace'76 - Spirit Of'76 - Dick's Picks 33 - Dave's Picks 4 - etc. Because these SF Orpheum Shows are Absolutely...
And Everyone is completely spot-on, with you-know-who Jerry. Never even coming close to missing an up-beat, down-beat, while just consistently surfing the horizon-edge of every single attack-spot & jam-pocket like a surfer on a tidal wave. It should also be noted that where you might think there are some timing mis-communications, or musical flubs, basically...
From a pure & simple lack of playing together (lately) in the holistic " Rhythm " of the Drums-meets-Base-meets-Bobby Guitar - there is really nothing " off " at all - and any musician worth their weight in Rock & Roll will tell you straight-up... And coming right to You! - through your headphones, into your ears - and completely-deeply straight into your mind & soul...
Or, as I should probably more-appropriately say -- channeled right-into your Dead-Head!!! Comes A Time > Drums > Other One!
> Space > Eyes > Other One!! Being there just must have been something-else for those fortunate enough to be inside these Summer'76 SF Orpheum Shows...
And, just as usual - I'm still waiting for all of these silly repairs on that Good Ol' Grateful Dead Time-Machine! --- Give me the keys... TRACK LISTING >>> Recorded' Live' at the Orpheum Theatre in San Francisco, California (CA) on July 16 & 17, 1976 (7/16/1976 & 7/17/1976) : Disc 1 : July 17, 1976 (7/17/1976) >>>.
Disc 2 : July 17, 1976 (7/17/1976) >>>. Eyes Of The World >.
Goin' Down The Road Feeling Bad >. Disc 3 : July 17, 1976 (7/17/1976) >>>. July 16, 1976 (7/16/1976) >>>. Dave's Picks 2016 Bonus Disc CD Disc 4 (Bonus Disc) / 7/16/1976 : July 16, 1976 (7/16/1976) >>>. Playing In The Band >. Item Condition : This Very Rare! Out Of Print (2016 GDP / Rhino release) Grateful Dead Dave's Picks 18 Volume Eighteen Orpheum Theatre - San Francisco, California (CA) - July 16 & 17, 1976 (7/16,17/1976) Limited Edition / Numbered Set (of # 16,500) 4-CD Set 3-CD Set + 2016 Bonus Disc CD (1-CD) included. Is in Like New condition - very-close to Brand New overall. The factory sealing shrink wrap has been severed on this 4-CD Set - but the CD Sets (3-CD Set & Bonus Disc CD) have never been removed from inside the shrink wrap - and neither CD Set inside has been played, or even touched severed shrink only! This 4-CD Bonus Disc Set is Brand New - minus the opened/severed shrink wrap, and has been Collected-Only! Inside protective plastic next to other CD Cases in my professional CD rack.
Please see all photos provided. Photos included are of the actual item you will receive.
This item is in the category "Music\CDs". The seller is "springfromnight1989" and is located in this country: US.
This item can be shipped to United States, Canada, United Kingdom, Denmark, Romania, Slovakia, Bulgaria, Czech Republic, Finland, Hungary, Latvia, Lithuania, Malta, Estonia, Australia, Greece, Portugal, Cyprus, Slovenia, Japan, Sweden, Korea, South, Taiwan, Belgium, France, Ireland, Netherlands, Poland, Spain, Italy, Germany, Austria, Bahamas, Israel, Mexico, New Zealand, Singapore, Switzerland, Norway, Saudi Arabia, United Arab Emirates, Qatar, Kuwait, Bahrain, Croatia, Republic of, Malaysia, Chile, Colombia, Costa Rica, Panama, Trinidad and Tobago, Guatemala, Honduras, Jamaica, Antigua and Barbuda, Aruba, Belize, Dominica, Grenada, Saint Kitts-Nevis, Saint Lucia, Montserrat, Turks and Caicos Islands, Barbados, Bermuda, Brunei Darussalam, Bolivia, French Guiana, Guernsey, Gibraltar, Guadeloupe, Iceland, Jersey, Jordan, Cambodia, Cayman Islands, Liechtenstein, Sri Lanka, Luxembourg, Monaco, Macau, Martinique, Maldives, Oman, Pakistan, Paraguay, Reunion, Uruguay.
Artist: Grateful Dead
Record Label: Grateful Dead Productions, Inc. / Rhino
Release Title: Grateful Dead Dave's Picks 18 + 2016 Bonus Disc CD
Custom Bundle: No
Grateful Dead, Dave's Picks 18, 1976, CD: Grateful Dead Dave's Picks 2016 Bonus Disc CD
Edition: 2016 GDP, Inc. / Rhino ( Limited Edition ), Grateful Dead Dave's Picks 18 + 2016 Bonus Disc CD, Grateful Dead Dave's Picks 18, Grateful Dead Dave's Picks Volume 18, Grateful Dead Dave's Picks 2016 Bonus Disc, 1st Edition, Live Recording, Collector's Edition, Deluxe Edition, Limited Edition, Numbered Edition
Type: 4 CD Set : Four ( 4 ) Discs (including Bonus Disc)
Format: CD
Release Year: 2016 (1976/2016) Grateful Dead Productions, Inc.
Language: English
Style: Folk/Country Rock, Progressive/Art Rock, Rock 'n' Roll, Blues Rock, Experimental Rock, Psychedelic Rock, Singer-Songwriter
Features: Grateful Dead, Dave's Picks, Grateful Dead Dave's Picks, Grateful Dead Dave's Picks 18 Volume Eighteen 1976, Grateful Dead Dave's Picks 18 2016 Bonus Disc CD, Grateful Dead Dave's Picks 2016 Bonus Disc CD, Orpheum Theatre, San Francisco, CA, 7/17/76, Orpheum Theatre, San Francisco, CA 7/17/1976, Orpheum Theatre, San Francisco, CA, 7/16/76, Orpheum Theatre, San Francisco, CA 7/16/1976, Grateful Dead Dave's Picks 18, Dave's Picks 18, Dave's Picks 2016 Bonus Disc CD, Grateful Dead Dave's Picks Bonus Disc CD 2016, Grateful Dead Bonus Disc CD, Dave's Picks Bonus Disc CD, Springfromnight1989 Listing, Limited Edition, Live Recording, Numbered
Genre: Rock
Country/Region of Manufacture: United States
UPC: 081227950798