Grateful Dead Dave's Picks 17 Volume Seventeen Selland Fresno CA 7/19/1974 3 CD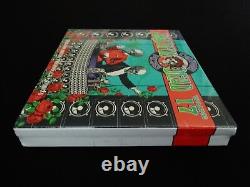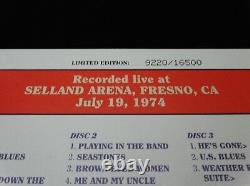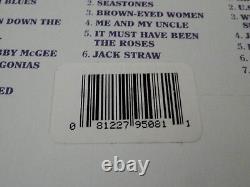 Grateful Dead : Dave's Picks 17 Volume Seventeen : Selland Arena - Fresno, California (CA) - July 19, 1974 (7/19/1974) : 3 CD : 2016 (1974/2016) Grateful Dead Productions, Inc. / Rhino (GDP / Rhino) - R2 552287 : Limited Edition' Individually-Numbered' Set (of # 16,500) : Brand New / Factory Sealed! 1974 Summer Tour Wall Of Sound!!! Show - at the Selland Arena!!! Dave's Picks Volume " 17 " has arrived - and, yes indeed...
" Prime-Time " Pre-Hiatus Good Ol' Grateful Dead!! And this time - not only just through the " Wall Of Sound " - but through the Wall Of Sound! -- at the way note-worthy'70's G. Live Venue - the Selland Arena!!!
As this one my fellow Dead Fans, is a simply Unbelievable-Heater!!! As usual - as we all well know - the Music! Needs to do the talking here, and wow - does it ever on this-release! So-tough to put into words, for sure - but...
This I will say --- this-Show is truly a candidate for " Top 10 " - or, maybe even " Top 5 " arguably, from the Amazing! First off, this Show fell on Keith's Birthday - and he truly plays like it... Thoroughness, attentiveness, at times - even aggressiveness, and with Joy! And this really seems to stimulate both Jerry & Phil from the early get go. These two battle, weave, cat & mouse, challenge each other... Both early & often thoroughly during this Magical!
The Scarlet is certainly trademarked here by both precision & high-energy attacks that really sets the stage & tone for what Set II delivers - strong! The Playin' is lengthy, massive, long, hard-jammed, and... Jack Straw in a big way, and from here on... He's Gone is played into a spirited U. Sheer Good Ol' Grateful Dead!!!
More & more of it... Because let me tell you... This Weather Report Suite, and it's immediate surroundings are & will-be worth an immediate " re-wind " ahh yes... To so kindly integrate a little' analog' talk into this overwhelming digital-era... As at this point, Phil pretty much transcends away from being a' Bass' player, and steps into the " Lead Guitar # 2 " roll - which can often so Beautifully! Patent' this Pre-Haitus'73 /'74 G. - and Jerry feels it deep down into his soul too - as there are hints of both! Smokestack Lightning' &' Spanish Jam' teases inside the base area of this Jam... I mean --- " Let It Grow "!!! This is a pure & deep-jammed Ripper! - that has some of the same Magic!
- but naturally a bit different & unique... Just as the July'74 Cap Centre Smoker that the Band delivered in Maryland just a few days later. You can hear the progression & immediate relation between these two stand-out versions. Basically, this is a full-on' Spanish Jam' in full effect, and I'm not entirely sure why this isn't labeled on the set list of this CD set. But hey, don't we all love surprises - and this is most certainly a Grate!
Eyes Of The World is born from this Jam decent, and it's arguably a' perfect' version of Eyes! Jerry is absolutely-perfect on all of the chords, flurries, tempos, timings, and attacks. Dang, I mean even if this might be bordering on a Phil and even Keith Show...
As isn't it just amazing how that case can pretty much always! Be made when listening closely - what a Player! Both a Student & Master! Is ok on the Soundboard section - but, kind of dicey overall. For putting this one so amazingly-sounding & in a pretty little box - with a little Skeleton!
Put you in a pleasant trance, and as for Saturday Night? Well, let's just say it will most-definitely make you want to go out & Enjoy! - much like this' Whole! TRACK LISTING >>> Grateful Dead : Selland Arena - Fresno, California (CA) : July 19, 1974 (7/19/1974) : Disc 1 : Bertha Mexicali Blues Deal Beat It On Down The Line Row Jimmy Me And Bobby McGee Scarlet Begonias El Paso Tennessee Jed Disc 2 : Playing In The Band Seastones Brown-Eyed Women Me And My Uncle It Must Have Been The Roses Jack Straw Disc 3 : He's Gone > U.
Blues Weather Report Suite > Jam > Eyes Of The World > China Doll One More Saturday Night Item Condition : This Very Rare! Out of Print (2016 GDP / Rhino release) Dave's Picks 17 Selland Arena - Fresno, California (CA) - 7/19/1974 3 CD Set Limited Edition #'ed Set (of # 16,500) is Brand New / Factory Sealed! Please see all photos provided.
Photos included are of the actual item you will receive.