Grateful Dead Dave's Picks 13 Volume Thirteen Winterland SF CA 1974 2/24/74 3 CD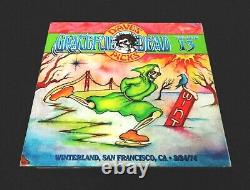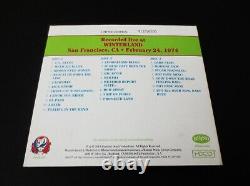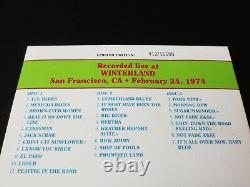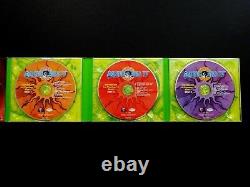 Grateful Dead : Dave's Picks 13 Volume Thirteen : February 24, 1974 (2/24/1974) - Winterland Arena - San Francisco, California (CA) : 3 CD : 2015 (1974/2015) Grateful Dead Productions, Inc. / Rhino (GDP / Rhino) : Limited Edition' Individually-Numbered' Set (of # 16,500) : Winterland! Grateful Dead Shows that Needed! And now - It Has Been!!! At the San Francisco Winterland Arena!!!!!
When you wish upon a Dark! And as for this Dead Fan here - this was a darn-near Necessary!
Pre-Hiatus (1974) release that just had-to be' unleashed' from that so-very precious G. And now, it has Been!! I mean I'm not sure what to even say here about this Historically-Significant!
Show - that hasn't already been said by someone or heard! - at least at some point... Over the last close to 45-Years!
As the Music at this'74 Dead Show - does way-more then indeed speak for itself! The China > Rider - Playin' - Cumberland - Weather Report Suite > Row Jimmy! - Sugar Mag > NFA > GDTRFB > NFA...
And last but most-definitely not least -- the Dark Star!!! Noteworthy versions that are truly' up-there' in the best of the best conversations in all of Grateful Dead History! If you haven't ever heard this Show? Wow, as by all means - do-you-ever Need To!!
So, as all of that speaks for itself completely... , this is what I can say about this 2/24/74 Show - in regard to the audio-quality - and the accessibility standpoint - from the history of the G. This was a Show that was widely-accessible in the 1980's - and likely prior to that too - and, the sound quality was always just not quite there - on so-many of the versions that I personally encountered. Point being - once you could lasso this Show in the B+ / A- S.
Range - you pretty much just considered yourself lucky - and would need to swiftly move on. I know myself - because I spent years & years trading around for this one - though all of my go-to G. And - it was like almost knowing that you would be soon headed back to square-one!
But then, in the Mid-'90's? Changed - and for, the Very-Best! As this 2/24/74 Show was one of the widely trading & extremely-accessible Pre-Hiatus G. Shows from the origin of the " DAT " Era!!!
I mean let me put it this way... I got my hands on an Completely-Amazing!!! Version of this Show - Complete! On 300 DAT tape - right around 1996 / 1997 as I very clearly remember - and from that point on...
In fact, I even at one point' transferred' this DAT version to Analog! - just, so I could listen to it through a Nak! I mean hey, I could use the JBL's either way - but this was a good recipe to undergo... Transferring Digital - to Analog!
And then sure, all of your Dead Fan Friends would make fun of you, since DAT was so-cool - in it's state of the art era. And Frankly, this Show is so' Worthy' of it's place in Time & Dead History... That you just can't have too many copies of it. And, here 2015 rolls around... Digitally-Remastered in Pristine fashion - and completely-Stellar!
It does sound different though (much) - in the channel separations, levels, mix, etc. To the point that I still! Won't be parting with my DAT > Analogs! I mean I don't know what else to say here... So, I'll just say it like this -- Heaven Sent G. See, basically what the Band - and the powers that be are saying to you here is... To listen-to - and' Own' this Magical! Early-'74 chunk of Good Ol' Grateful Dead!!!
And, as you'll see & hear - there are Tons & Tons! Here is - the " Big-One " --- Dark Star!!!!! So, just remember to strap-on that Cosmic Seatbelt!
In your music-listening easy chair - so you're not' immediately' taken Straight! Before the arrival of Disc 3!!! And, hey too - come to think of it... You might seriously want to strap-on those Ice Skates too!! From the One & Only...
TRACK LISTING >>> Grateful Dead recorded' Live' at the Winterland Arena in San Francisco, California (CA) on February 24, 1974 (2/24/1974) : Disc 1 : U. Out of Print (2015 GDP / Rhino release) Grateful Dead Dave's Picks Volume 13 Winterland - San Francisco, California (CA) - 2/24/1974 (3-CD) Limited Edition' Individually-Numbered' Set (of # 16,500) is. Very Good condition - close to Very Good/Like New overall.
CD's (Disc 1, Disc 2, Disc 3) are in Very Good condition - close to Very Good/Like New with light marks/scratches on the Disc 3 playing surface (please see photos). Liner Notes (Fold-Out 6-Panel Insert) are in Like New (Near Mint/Mint) condition with very-light indentations (please see photos). CD Case (3-CD Quad-Fold) is in Very Good condition with light surface/edge wear indentations & shallow spine creasing (please see photos). Please see all photos provided.
Photos included are of the actual item you will receive. His Grateful Dead " Dave's Picks " release series has constantly growing in popularity...
From 12,000 Limited Edition 3-CD Sets in 2012 - to 13,000 in 2013 - to 14,000 in 2014 - to 16,500 in 2015, 2016 & 2017 - to 18,000 in 2018 - to 20,000 in 2019 - to 22,000 in 2020 - and... To 25,000 in 2021!! This item is in the category "Music\CDs". The seller is "springfromnight1989" and is located in this country: US.
This item can be shipped worldwide.
Artist: Grateful Dead, Jerry Garcia, The Grateful Dead
CD Grading: Very Good Plus (VG+)
Record Label: Grateful Dead Productions, Inc. / Rhino
Release Title: Grateful Dead Dave's Picks 13
Case Type: Cardboard Case / Plastic Disc Trays ( 3-CD )
Color: Multicolor
Case Condition: Near Mint (NM or M-)
Inlay Condition: Very Good Plus (VG+)
Edition: Anniversary Edition, Collector's Edition, First Edition, Limited Edition, Live, Numbered Edition
Type: Album
Format: CD
Release Year: 2015
Language: English
Era: 1970s
Instrument: Bass Guitar, Drums, Electric Guitar, Guitar, Keyboard, Percussion, Piano, Voice
Style: 1970s, American Folk, Art Rock, Blues Rock, Country Blues, Country Folk, Country Rock, Electric Blues, Electric Folk, Experimental, Experimental Rock, Folk Rock, Jazz Rock, Progressive Country, Progressive Folk, Progressive Rock, Psychedelic Folk, Psychedelic Rock, Singer-Songwriter, Vocal
Features: HDCD, Live Recording, Numbered
Genre: Blues, Country, Folk, Jazz, Progressive, Psychedelic, Rock, Rock 'n' Roll
Run Time: 3-CD
Country/Region of Manufacture: United States
Grateful Dead, Dave's Picks, 1974, 3 CD: Grateful Dead, Dave's Picks 13, Winterland 2/24/74
UPC: 0081227956554