Grateful Dead Dave's Picks 11 Wichita Kansas 11/17/1972 KS Wizard Of Oz Art 3 CD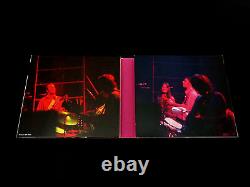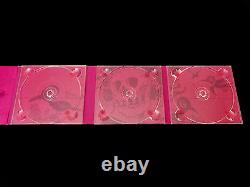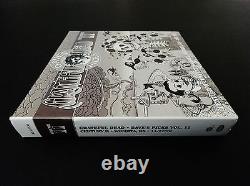 Grateful Dead : Dave's Picks 11 Volume Eleven : Century II Convention Hall - Wichita, Kansas (KS) : November 17, 1972 (11/17/1972) : 3 CD : 2014 (1972/2014) Grateful Dead Productions, Inc. / Rhino (GDP / Rhino) - R2-541135 : Featuring Wizard Of Oz!
- Gary Houston Art Design!!! Dave's Picks 11 = A Historical Snap-Shot Black & White - & Color!
Of The Good Ol''72 Grateful Dead!! Dead Fans who just love... That'72 Good Ol' Grateful Dead! Well, let me tell'ya -- " We're Not In Kansas Anymore "... Is now Out The Door! With this superb 11/17/72 Wichita, Kansas Show... Are in town - and wowie...
Do they make this night Count! Barnstorming Wichita - just like the' Twister' on the Cover!! So, I hear propose the' Big' question for all..
Do you think they played Jack Straw? Chuck-Berry style chops straight out of the gate as the Promised Land burner heats up, and it's On! Plus, you probably need a little Heat! Considering this is a just about Thanksgiving-time Show in Kansas!
You can tell right-away that they are Fluid! &' Comfy' in a way where there is a little bit of extra " Umph " on every vocal sung & note played - that little extra attention to detail... Sections of the stage - Strings, Percussion, Keys... And Vocals across the board!
Through the 1st 1/2 Dozen songs of the 1st set Promised - Sugaree - Uncle - Tennessee Jed - B. , they get hot - and start rolling' down' hill in a way-good-way, in an unstoppable - we can do anything way on this night! Plus, check your' Era' here G. As this is a house crowd that have just experienced the " Europe'72 " Album released! Can't think of a better album to kind of' Tour' than that one - and especially during this G.
By the time Bird Song arrives, everyone Band & Crowd! Is just settled into the' Special' Zone - knowing that anything great could happen... Simply because they are On!
All is smooth, and it's All-Systems-Go!! Bird Song has something mighty-special in'72, and this one is no exception...
A noteworthy version, to be quite frank about it. Then, it's Box of Rain time! - totally just kidding, as that one is next... They drill this one Real-Good!
Lots of treble pop & warmth from stage-right, as this is a Garcia Fender-Strat Drill-Down! Or, a Fall'72 Clinic... The Band's confidence & lack of loose-ends really anywhere fills up this Century II Convention Hall...
It is so incredibly apparent, that this is a Band that completely Delivered!! On their Europe'72 Tour - and they know that they hit it hard, and dropped-jaws all over the' other' side of the world...
As they really begin to play like they can tackle anything possible in this show, any number, any timing-count - you name it... When the tempos change from tune to tune, it's almost like collective-gears of a car - or, something like that. Machine-like in tightness, but they are in complete control of when, how & where they attack each & every tune. Plus, this is still a good year-plus!
Before the Band got a little weighed-down by the " Wall of Sound "... And a hiatus was shortly due. Tired here, and if so - it doesn't show... As the amps & instruments are pretty much at their mercy. A real proponent of Garcia using effects, distortion, and heavy-distortion...
There is a clear & clean' twang' to this Strat-Attack, that almost allows the clarity & short-point resonations shorter-sustains! Themselves that build the jams! And, we're talking about all-tempo jams too. It's like this, unlike any other Guitar there is well, at least all the ones I've personally played... There is no other guitar made that can tell you where to go - next!
At least in my opinion. Sure, they've got their limitations indeed, but... That's not one of them. Get off into some 3-way Cat & Mouse here that Rock!
Insane pattern & tempo weaves that make you want to jump right in! Dang, and who said it was cold in Wichita!
In November of'72, because it sure sounds Hot! Heck,' looking' at the set list, much less listening tells you this Show has a Good! Chance, to be one of' Those'. Jack Straw follows Bird Song! Don't let it fool ya' -- because China > Rider is Next!
Casey Jones & Cumberland back-to-back... And Garcia just Howls - like any Grate! Casey Jones should be Hollered-Out!! Then after He's Gone...
It's no holds-barred, and no-prisoners taken! As Dead Fan is left Gratefully-Dead! >>> He's Gone > Truckin' > Other One!
> Brokedown > Sugar Mag! Of an Encore - with a Beauty! Of an Uncle John's Band!!
With a cooker of a Johnny B. Goode to send them home' sat-is-fied'!!!
I really should note too... Because it can't be forgotten at this 11/17/72 Show -- Phil delivers a Magical! Studio-like in its perfection, but with a little bit of' extra' on that low-end! And on the high too!!
-- go & get'em!!! If that's not enough -- here's the real' Hidden-Gem' on this Dave's Picks 11...
A Five (5) Song Smoker! Of a segment from the 11/15/1972 Oklahoma City Show!!! Down & Dirty Set II material - with Attack! As only the Wharf Rat allows any time for the OK City Dead Fans to gasp for air! Playin' > Wharf Rat > Not Fade Away!
I mean if you love your'72 G. This one is a Must! -- right on the heels of Spring'73, and you can feel that direction for certain - that things are most definitely heading. The Band is just such a Band during this very-special period & era. And most surprising release too. Montana & Kansas get check-marks now -- and Who? And also -- just check out the packaging on this one, as it's a little on the Wild-Side! Of course, but with a little bit of Black & White - versus Color! An extra-special Case & Liner Notes for an extra-special'72 G.
Improvements from the Europe'72 unit here... Through & through musically, but - you've got to give it a solid listen! This one really made me Smile! And I'll betcha it will do you the same...
Well, you know - You & the Skeleton-Scarecrow!!! TRACK LISTING >>> Grateful Dead recorded' Live' at the Century II Convention Hall in Wichita, Kansas (KS) on November 17, 1972 (11/17/1972) : Disc 1 : Promised Land Sugaree Me & My Uncle Tennessee Jed Black-Throated Wind Bird Song Jack Straw Box Of Rain Don't Ease Me In Beat It On Down The Line Brown-Eyed Women Big River China Cat Sunflower > I Know You Rider Disc 2 : Around & Around Casey Jones Cumberland Blues El Paso He's Gone Truckin' > The Other One > Brokedown Palace Sugar Magnolia Disc 3 : Uncle John's Band Johnny B. Goode From 11/15/1972 Oklahoma City, Oklahoma (OK) : Playing In The Band Wharf Rat Not Fade Away > Goin' Down The Road Feeling Bad > Not Fade Away Item Condition : This Very-Rare! Out of Print (2014 GDP / Rhino release) Grateful Dead Dave's Picks Volume 11 Century II Convention Hall - Wichita, Kansas (KS) - November 17, 1972 (11/17/1972) Limited Edition Individually-Numbered (of # 14,000) 3-CD Set is in Like New condition.
CD's (Disc 1, Disc 2, Disc 3) are in Like New Near Mint/Mint! Liner Notes (12-Page Insert Booklet) are in Like New Near Mint/Mint! CD Case (3-CD Quad-Fold) is in Like New Near Mint/Mint!
Please see all photos provided. Photos included are of the actual item you will receive. Grateful Dead Dave's Picks Volume 11 - Featuring " Wizard Of Oz " Artwork!!
- 11/17/1972 at the Century II Convention Hall!! This 3-CD Set is a Limited Edition Series (of # 14,000) Edition! A Grateful Dead " Dave's Picks " release series constantly growing in popularity... From 12,000 in 2012, to 13,000 in 2013, 14,000 in 2014 (this release), and 16,500 in 2015 - 2017... And 18,000 in 2018!! This item is in the category "Music\CDs". The seller is "springfromnight1989" and is located in this country: US. This item can be shipped to United States, Canada, United Kingdom, Denmark, Romania, Slovakia, Bulgaria, Czech Republic, Finland, Hungary, Latvia, Lithuania, Malta, Estonia, Australia, Greece, Portugal, Cyprus, Slovenia, Japan, Sweden, South Korea, Taiwan, Belgium, France, Ireland, Netherlands, Poland, Spain, Italy, Germany, Austria, Bahamas, Israel, Mexico, New Zealand, Singapore, Switzerland, Norway, Saudi Arabia, United Arab Emirates, Qatar, Kuwait, Bahrain, Republic of Croatia, Malaysia, Chile, Colombia, Costa Rica, Panama, Trinidad and Tobago, Guatemala, Honduras, Jamaica, Antigua and Barbuda, Aruba, Belize, Dominica, Grenada, Saint Kitts-Nevis, Saint Lucia, Montserrat, Turks and Caicos Islands, Barbados, Bermuda, Brunei Darussalam, Bolivia, French Guiana, Guernsey, Gibraltar, Guadeloupe, Iceland, Jersey, Jordan, Cambodia, Cayman Islands, Liechtenstein, Sri Lanka, Luxembourg, Monaco, Macau, Martinique, Maldives, Oman, Pakistan, Paraguay, Reunion.
Artist: Grateful Dead, Jerry Garcia, The Grateful Dead
CD Grading: Near Mint (NM or M-)
Record Label: Grateful Dead Productions, Inc. / Rhino
Release Title: Grateful Dead Dave's Picks 11
Case Type: Cardboard Case / Plastic Disc Trays ( 3-CD )
Color: Multicolor
Grateful Dead, Dave's Picks 11, 1972, CD: Wizard Of Oz, 11/17/72, Wichita, KS, Gary Houston
Case Condition: Near Mint (NM or M-)
Inlay Condition: Near Mint (NM or M-)
Edition: Collector's Edition, First Edition, Limited Edition, Live, Numbered Edition, 2014 GDP, Inc. / Rhino ( Limited Edition # 3256 ), Grateful Dead Dave's Picks 11, Grateful Dead Dave's Picks Volume 11, Grateful Dead Dave's Picks Volume Eleven, 2014 (1972/2014) Grateful Dead Productions, Inc. , 1st Edition, Live Recording
Type: Album
Format: CD
Release Year: 2014 (1972/2014) Grateful Dead Productions, Inc.
Language: English
Era: 1970s
Instrument: Bass Guitar, Drums, Electric Guitar, Guitar, Keyboard, Percussion, Piano, Voice
Style: 1970s, American Folk, Art Rock, Blues Rock, Country Blues, Country Folk, Electric Blues, Electric Folk, Experimental, Experimental Rock, Folk Rock, Jazz Rock, Progressive Country, Progressive Folk, Progressive Rock, Psychedelic Folk, Psychedelic Rock, Singer-Songwriter, Vocal, Folk/Country Rock, Rock 'n' Roll
Features: HDCD, Live Recording, Numbered, Grateful Dead, Dave's Picks Volume 11 ( Eleven ), Century II Convention Center, Wichita,, Black & White ..., Springfromnight1989 Listing, Wizard Of Oz ... Skeleton Wizard Of Oz, Gary Houston Art !, November 17, 1972 ( 11 17 1972 11 17 72 ), 1972 Grateful Dead Live !

, Grateful Dead 1972 Fall Tour Live in Kansas ( KS ), The Grateful Dead, Grateful Dead Dave's Picks, Grateful Dead Dave's Picks 11, Dave's Picks 11, Grateful Dead Dave's Picks Volume 11, Grateful Dead Wizard Of Oz, Grateful Dead Dave's Picks Vol. 11, Grateful Dead 1972

Genre: Blues, Country, Folk, Jazz, Progressive, Psychedelic, Rock, Rock 'n' Roll
Run Time: 3-CD
Country/Region of Manufacture: United States
UPC: 0081227962289