Dave Troutman Signed #5/1000 Limited Edition Framed Vietnam War Art Print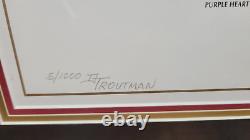 Extremely rare hand signed & numbered Dave Troutman #5/1000 limited edition framed Vietnam War veterans art print. Framed and matted in a gold-tone frame. The frame measures 34" x 28 1/2" approx.
This is the fifth one ever made out of 1,000. In very good condition aside from some minor scuffs on the frame. See photos for more info.