Dave's Picks Grateful Dead, Volume 14, Limited Ed, Academy of Music NYC 3/26/72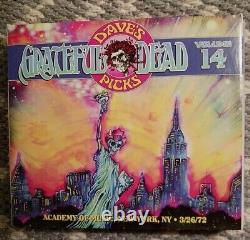 This limited edition CD features the Grateful Dead's recorded live stellar performance at the Academy of Music, NYC, on 3/26/72. The album includes hits from their classic rock extraordinary and anomalous repertoire of songs, with a total runtime of 187.46 minutes. The packaging is a beautiful multicolor cardboard sleeve, and the CD is in near mint condition. The album features an impressive lineup of instruments including double bass, guitar, keyboard, violin, percussion, bass guitar, electric guitar, tambourine, mandolin, acoustic guitar, piano, harmonica, voice, and drums. Some of their iconic arrangements include Cold Rain and Snow, Jack Straw, Sugar Magnolia, Truckin', Mr.
Charlie, Playing in the Band, and many more. The CD includes a picture disc with original cover art and is labeled as a unit with catalog number R2-548604. Don't miss out on this opportunity to own an iconic and rare piece of music history!