Dave Fetty Fenton Hanging Hearts Willow Green Limited Edition Pitcher 9 Inch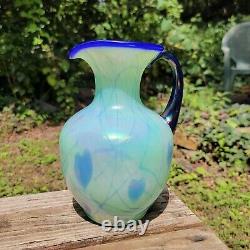 This stunning pitcher from Fenton's Dave Fetty collection features a beautiful hanging hearts pattern and comes in a gorgeous willow green color. Measuring about 9 inches in height and 6 1/2 inches in width, this limited edition pitcher is hand painted and hand blown, making it a unique piece for any glassware collection. The pitcher is made of high-quality glass material, and its production technique involves careful hand blowing.
This exquisite piece is perfect for displaying in any decorative glassware collection.