Chuck Sperry Dave Matthews Band Wood Grain Var Gorge Art Print Poster George WA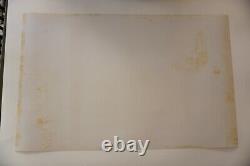 For their 2019 show at the Gorge by. This image was created by Sperry for the Dave Matthews Band's Show at the Gorge in Quincy (George), WA in 2019. This rare Wood Grain Variant is signed and numbered out of an edition of only 15. What makes this extra special is that the Wood Grain was hand painted by the artist, which make each one a unique piece.
As a result, as you can see in the photos there is paint on the back of the print from this process. Chuck doesn't really do remarques or hand embellishments to prints so having something done by hand is incredibly rare. This screen-printed poster has no visible flaws.
The poster measures 21" x 33". Any questions feel free to ask. Feel free to check out my other auctions as well.