2023 Vibrance Julius Erving Dave Bing George Gervin Gail Goodrich Quad Auto /4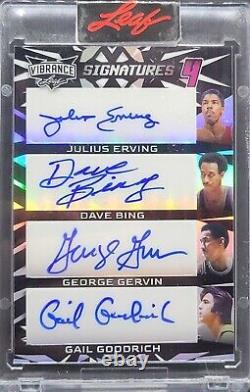 This is a highly sought-after 2023 Leaf Vibrance sports trading card featuring the autographs of basketball legends Julius Erving, Dave Bing, George Gervin, and Gail Goodrich. The card is made of high-quality card stock material and is in near mint or better condition. It is an original, serial numbered, limited edition, and exclusive card that comes with a Leaf autograph authentication. This card is serially numbered 3/4 made. The card is a standard size and belongs to the base parallel/variety of the Leaf Vibrance set.
It is not graded and is considered a rare find for any sports trading card collector. The card is associated with the multi-sport category and belongs to the 2023 season. It does not have any autograph authentication number, and it is manufactured in the United States.